Taste BC 2009
By Guest-Writer Joanna Lee
Last night, Vanessa and I went to Taste BC 2009, a charity event organized by Liberty Wine Merchants for BC Children's Hospital – Oak Tree Clinic.  Tickets were $50 per person with all proceeds to charity.  The event featured live music, door prizes, a silent auction and indeed a lot of tastings.  Taste BC was "a celebration of local food and drink" with more than 40 wineries, 10 restaurants and 600 attendees gathering at the Hyatt Regency in support of a charitable cause.  The event ran from 4:30 to 7:30 pm and when we arrived at 5:00pm, things were well underway.  Even with in and out privileges to the event, the grand ballroom was always quite full and bustling with people of different ages.   The turnout was impressive and the crowd mixed to include pods of avid yuppies, men and women still donning their business suits, and the more mature wine lovers. 
We were handed an empty wine glass at the entrance of the grand ballroom, and thus began our night of fine wine and delectable food.   While I must admit that I don't know a whole lot about wine, it was certainly very easy to appreciate the variety of wines, liquors, and spirits on hand.  I had more than a dozen tastings and merchants were welcoming and educating about the history and description of their products.  From your everyday reds and whites to beers and even Japanese sake, Taste BC lived up to its name. 
It was equally impressive to see some of the city's most renowned chefs participating for the worthy cause.  Chef Angus An of Gastropod, and Two Chef and a Table's Karl Gregg and Allan Bosomworth were all dishing up plates of their gastronomical sensations.  Young chefs from the recently-opened Miku Japanese Restaurant fired up raw salmon sushi on the spot, while Rodney's Oyster House served their specialties with a playful theme of "Eat Me Raw". 
Some of the notable mentions from the night include:
Dirty Laundry's 2007 Pinot Gris – This pinot was so light, airy and full-bodied I could have drank the entire bottle.   I was thought-provoked by the name and intrigued by the minimalist and trendy look of the label (designed by Vancouver's Brandever Strategy).  Once known as Scherzinger Vineyards, the name changed to Dirty Laundry, which comes from the story of an early 1900s Chinese railway worker who ran a laundry that eventually became a front for a brothel. 
Okanagan Spirits's cranberry fruit liqueur –  Five fruit liqueurs were available for tasting.  I sampled the cranberry liqueur and was pleasantly surprised to find that the fruitiness did not overwhelm the liquor.  It is best served on the rocks or as a mixer, over cheesecake or even ice cream.  New from Okanagan Spirits, other flavours include blueberry, raspberry, blackberry, and blackcurrant.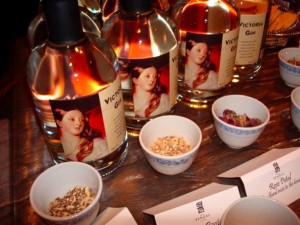 Winchester Cellar's Victoria Gin – Victoria Gin is a blend of 10 locally grown organic botanicals and one secret ingredient, and is BC's only handcrafted premium gin.  Served in shot glasses, I decided to have one straight up (instead of complementing with gin offering) and found it strongly flavoured.  Victoria Gin was launched in celebration of Queen Victoria's 100th birthday and Winchester is now on hiatus from its other wines to focus on production of their gin. 
Road 13 – formerly known as "Golden Mile Cellars", the winery recently went through a re-branding to Road 13.  The change provides an opportunity to give the "Golden Mile" name back to the wine industry in hopes that all wineries in the area can adopt the name regionally and work together to promote the unique farming history and spectacular growing conditions of the area.