Abio Bikes – Mindful Commuting in Chainless Style
By Guest-Writer Alicia Woodside
If Abio Bikes' eye-catching purple or green shades didn't demand your attention on first glance, then the attractive and intelligent design of these hot new folding, chainless bikes will definitely make you stop and look!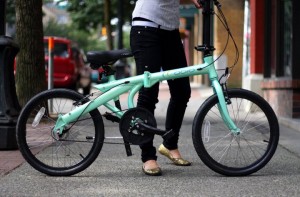 Both originally from Vancouver themselves, Abio Bikes' co-owners Mike Tran and Teck Chu have re-thought the daily biking experience with their line of portable, storable, easy-to-use-and-enjoy bicycles. Mike explains that Abio Bikes was formed when founder Teck visited Europe and Asia, and returned with an inspiration to expand the folding bike alternatives in North America. The pair then set out to create a line of bikes with two key advantages "to liberate urban commuters": the bikes fold for effortless carrying and storage, and operate without traditional bike chains, so users can wear fashionable clothing worry-free. The two bike models currently offered by the company are the Verdion model in 'Pearl Chervil' colour, (a pale green) and the Penza model in 'Pearl Wine' (a bright purple). The Penza uses a shaft-driven system, while the Verdion uses a belt drive.
The company launched its bicycles this past summer and have experienced what Mike describes as a surprising level of success. Recently, Abio Bikes have added an element of prestige to their appealing bikes, with the aid of displays in Bloomingdale's New York and in Harry Rosen Vancouver stores.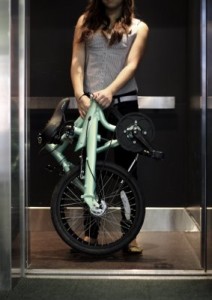 I had the opportunity to meet co-owner Mike Tran and test out the Penza model first hand along Commercial Drive. Being someone with little tech-savvy, I was initially most impressed by the bike's attention-grabbing looks, with its electric purple colour, hidden internally-routed cables, and cute features such as a bell on the handlebars and even a built-in flashing tail light in the saddle! The bike easily garnered more attention and intrigue than anything else on the street. When it came time to ride the bike, my lack of technical awareness did not stop me from appreciating the thoughtful design components.
For one, the bike has a large vertical distance between the handlebars and the front wheels, which accommodated my oversized bag to hang freely without being in the way. Shifting between the Penza's three gears was a breeze, with the simple twist of the grip shifter. Unlike most bikes I've used, the gear changes occurred immediately. With the chainless design, I was able to wear business casual clothing without getting my pant legs dirty or caught in a chain, again unlike previous bicycle experiences. Finally, the ride itself was smooth, easy, and enjoyable… I felt like a kid again! After completing my ride, I even managed to master the assembling and dissembling of the bike, without any difficulty. My only critique is that at thirty pounds, it's a bit heavier than my typical handbag, but the bike's robust design compensates for the little extra in weight.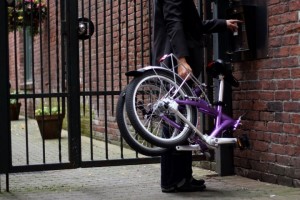 The greatest advantage I see in this bike is that it satisfies a conscious means of commuting, but makes it a whole lot more convenient, stylish, and fun. Urban-dwellers can now bike in style, thanks to the beautiful appearance of the bikes and the assurance against clothes getting dirty or damaged. Wearing a suit home from the office? No problem! The bike also enables easy storage, which is especially important for our dense urban environment. Being able to easily store the bike indoors not only prevents theft of the bike, but also prevents rust from reduced exposure to the elements outside. Finally, with the folding design, the bike liberates its user to go anywhere, even aboard the busiest rush-hour bus or skytrain!
Although they're priced at $790, Mike says that the bikes are priced competitively for products of similar quality. To be sure, I analyzed alternative products and found that folding bikes, without the chainless technology ranged from roughly $360 to $800. The difference in price reflects the added advantages of the chainless technology. With its robust design, and a five-year warranty on the frame and fork, the bike appears to be worth every penny.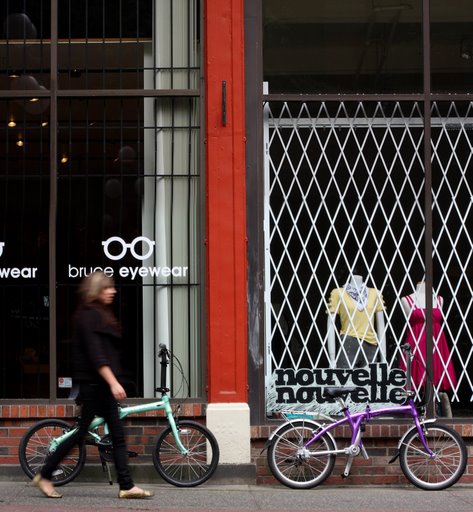 And what does Abio Bikes have in store for the future? This spring, the company plans to add to its product line with the release of a new Penza, this time with a more neutral colour scheme to suit those who prefer making less of a splash. Mike's vision for the future of commuting in Vancouver is to "help reduce our city's growing pains, which certainly involves biking". He believes this will help ensure Vancouver will "always be one of the best cities to live in". Clearly, his innovative line of bikes is paving the way to better integrate cycling into the urban lifestyle. Mike's final words to MMV readers are: "Join the Chainless Revolution with Abio Bikes. Stay tuned for our new upcoming offerings."
If you're interested in being seen with your own Abio Bike, get one at JV Bikes, Rain City Bikes, or Cambie Cycles. More technical descriptions, such as how the chainless technology actually works, can be found at www.abiobikes.com.