The arrival of
Geisha Ink
came at the perfect time for me at
Jules & Eve
. My beloved, liquid felt-tip eyeliner from The Body Shop was running out and I was ready to try something new.Geisha Ink comes packaged in a slim, black box with an illustration of the fictional character Katsumi on it. Her story is as follows:
At a very young age, Katsumi was sent to apprentice to be a Geisha to the city famous for its Geisha arts, Kyoto. As a young girl, Katsumi would often hide and listens to the conversations between the older Geishas and the businessmen they entertained. Nothing fascinated Katsumi more than the stories these older Geishas shared of the western world. In her mind, she yearned for the day when she would be free to experience it herself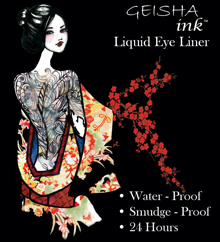 The actual eyeliner is splendid. Like the name "ink" implies, the way the eyeliner draws on is reminiscent of a felt tip pen or a slim water color brush. The slim casing is sleek and easy to hold. Although the eyeliner is a solid black, the watery flow of the "paintbrush" on the eyelid gives it a smooth, liquid feel. My lines were drawn with a sharp and accurate precision. No need for a q-tip here! In addition, the liquid eyeliner dries quickly so there was also no need to wipe off excess product from the eye crease from opening your eye too quickly. I have been consistently able to wear this eyeliner for the entire day without any smudging. However, although Geisha Ink is waterproof and smudgeproof, the "magical" thing about it is that you don't need make-up remover to take it off. Warm water and softly rubbing it off works just fine.
However, for those of you who like to line your bottom inner eyelid, Geisha Ink will not work on your water line. Then again, you're not supposed to use any type of
liquid
eyeliner there anyway. For that purpose, here is a quick plug to
Stila
's Kajal liner, which is designed to be used in that area, and is recommended by Sara Au Yeong, owner of Jules & Eve. This product should last for about three months and can be purchased at beauty boutiques across Vancouver including
Jules & Eve
,
BeautyMark
and
Kiss & Makeup
(West Vancouver).