A slim, discreet packet is dropped off in your postbox with no sign of the sender except for a feminine "Panty by Post" emblem. A Canadian stamp neatly occupies one corner of the lightweight package. What surprise is this? Who can this enticing gift be from? Alluring. Mysterious. Secretive. Enticing. Provocative. Sexy. Surprising.
At the Best of 604 awards, I met Lori Sholzberg, one of half the best-friend duo of the newly launched Panty By Post . The concept is simple, customers can sign up online to receive a surprise pair of panties, postal mailed, each month for up to twelve months. Customers have a choice of 1-, 6, and 12-month packages: the "Sexy Single", the "Sultry Six" or the "Commitment".
We wanted to create a concept that would generate a feeling. First, the anticipation and nostalgia of receiving something in the mail like waiting to open that first present on Christmas morning when you were a kid. Or it could be the surprise and excitement of getting a package addressed to you as a gift. Most profoundly, it was the essence of the way you feel after slipping into one of our French satiny and lacey panties…need I say more?
Below is an interview with Lori Sholzberg, featuring her thoughts on friendship, business, and of course – Panty By Post!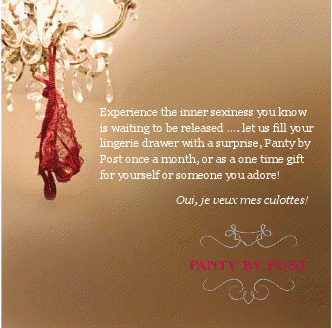 MMV: How does it feel being in business with your best friend? And how did you and Natalie meet?

Being in business with your best friend can be complicated for most; however, Natalie and I are fortunate to have a very unique relationship that has become familial. In fact, we began our friendship as roommates in University years ago and even though we lived in different cities for the better part of knowing each other, there was always a profound bond in our friendship. I believe it was built on a great amount
of respect for one another and the ability to freely communicate.
MMV: Who are you trying to target with Panty By Post?
We are targeting women of all ages, bride and best friends who would like to explore their inner confidence, their sexiness, their flare..and the men who want to buy it as a surprise gift for them! They
aren't your mothers' underwear, but your mother could sure wear them!
MMV: Has anyone subscribed to Panty By Post yet?
Definitely! I only hope that I learn to take less time picking the panties to post! I try to imagine who the recipient is based on the choice of style they have have provided and choose one that will tell their story!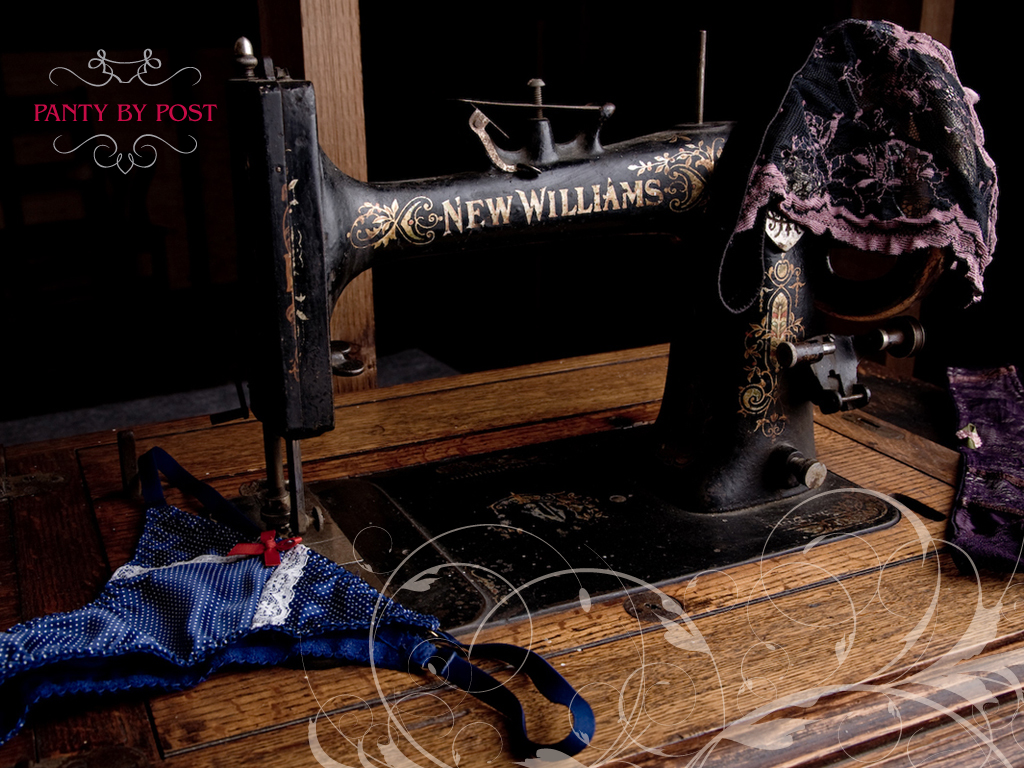 MMV: What is so special about Montreal's "Blush" line and do you have any special connection to that brand of lingerie?
I personally have a special connection to Blush Lingerie, being a Canadian designed line coming from Montreal, Quebec, my hometown..but their frilly, fun, satiny lace and french inspired designs match our concept to its entirety. We were looking to create a feeling, a mood, a story when you slipped on our panties, and Blush fit the mold perfectly.
MMV: What do you see in store for the future of Panty By Post in the next year? How about the next five?
Panty by Post is not only about fun and sexiness, it's about giving back. In the up coming months we have already organized ourselves to be donating swag bags and auction gifts to the upcoming charity event, "An Evening with Diana Krall and Friends" featuring Elton John and James Taylor, to name a few. We are also currently getting involved with Run for a Cure. Also, Kim Catrall recently got our swag bag at her event in Vancouver the other day. [click here for the MMV article]. We also have an exciting new line in the works for plus size and for the men in our lives as well. Having a business partner that compliments you and sparks creativity is really the essence behind the foundation of building a successful creation!
MMV: Anything else you would like to say to Modern Mix Vancouver readers?
Log onto Panty By Post and see for yourself..we're about bringing the nostalgia back in receiving a surprise in the post, we're about awakening your inner self, we're about wearing your sexiness under your wear..so
that it will show on the outerwear!
Now imagine your panty drawer as a candy store with an array of moods and feelings to choose from… girlie and cute, sexy and sultry, confident and strong, playful and sassy. Whatever you are in the mood for, let the anticipation of a new surprise panty in the post unleash that sentiment.