Geisha Ink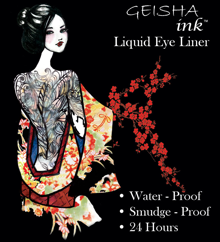 Geisha Ink is a liquid felt pen eyeliner.  And how often does a beauty product have an entire story behind it? The world renowned Caitlin Dinkins (best known for her Stila Cosmetics illustrations) assisted in creating the face of the brand: Katsumi, a Geisha from Kyoto, Japan, whose name can be translated as "victorious beauty".
At a very young age, Katsumi was sent to apprentice to be a Geisha to the city famous for its Geisha arts, Kyoto. As a young girl, Katsumi would often hide and listens to the conversations between the older Geishas and the businessmen they entertained. Nothing fascinated Katsumi more than the stories these older Geishas shared of the western world. In her mind, she yearned for the day when she would be free to experience it herself.
Geisha Ink Liquid Eyeliner is made with a 24 Hour water and smudge-proof formula with its microfiber brush tip. This quick-drying formula helps create subtle to dramatic looks and can be layered on for intensity. The liner will be retailing for $30.00 each and can be found at beauty boutiques across Canada including at Jules & Eve, BeautyMark and Kiss & Makeup (West Vancouver) and will be available in-stores by Mid-January. Stay tuned for a MMV review of Geisha Ink!