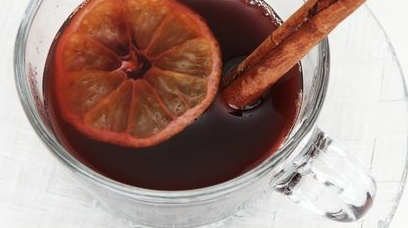 By Guest-writer Alicia Woodside
While waiting to be seated this holiday at Earls, I was pleasantly surprised by an offering of warm, delicious mulled wine. The popular restaurant was using a very unique and appealing way to keep customers pleased during the busy holiday rush. After quickly finishing my mug, I requested Earls' recipe, which uses a simple and flavourful array of ingredients that would please guests at any gathering this winter. Mulled wine is a winter evening delight and a great addition to bring warmth, comfort, and style to any occasion this winter.
Ingredients:
2 bottles red wine: A Zinfandel or Merlot (avoid oak-aged wine, and choose a decent bottle- it doesn't have to be expensive as it is just being heated anyway)
2 cups water
½ cup cognac
2 cinnamon sticks
10 cracked cardamom pods
Directions:
Heat-up the flavour elements by bringing the two cups water, cinnamon sticks, and cardamom pods to a boil in a saucepan. Once it boils, lower the heat, and add the wine to the aromatic mixture you have created. Gently heat the wine to a simmer, without allowing it to boil, for anywhere from twenty minutes to two hours. Just before serving, stir in the cognac.
Tips:
For a gathering, continue to steep the wine as guests arrive to welcome them with the amazing fragrance of fruit and spices. Serve in mugs, and keep the wine warm throughout the evening in a thermos, as guests are likely to want more