2009 Eating & Drinking Guide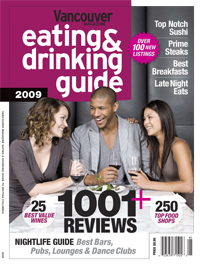 Vancouver Magazine publishes an annual special interest "Eating & Drinking Guide" with over a thousand reviews of the very best restaurants, bars, clubs, wines, beers and food shops throughout the British Columbia region. Published in magazine-style, I picked up a copy of the guide today at Chapters for $10. It's a little pricy for a magazine-style guide, but if you're a true foodie, to have a compilation of reviews and recommendations at your fingertips for the entire year may come in handy. Actually, to be honest, this is a belated Christmas present for one of my good friends but when you're snowed in on a Saturday evening, any sort of trendy literature becomes tempting to flip through. I'm sure she won't mind if I sneak a peek through it! (Thanks, Joanna).
For example, the guide comes with a handy key of symbols to make browsing through the magazine a user-friendly experience. For example, a red star marks it an "extraordinary dining experience" (ie. West (2881 Granville Street) or Gastropod (1938 West 4th Avenue)) or while a black star signifies excellent value for money (ie. Figment (500 West 12th Avenue @ Cambie) or Relish (888 Nelson Street)). Aurora Bistro (2420 Main Street) was one of the rare listings which got reviewed with both stars!
The guide is nicely segmented into comprehensive categories from African & Middle Eastern to Vegetarian & Vegan dining. So whether you're in the mood for eating or drinking, this Vancouver guide has the best restaurants for you to try out and form opinions of your own! There is also a handy number of maps at the back of the guide pinpointing where the venues are located.
Buy the guide online here.
Inspired by what I have read, I have compiled two short lists of my own.
MMV's Top 3 Restaurant Recommendations
These are three of my favorite restaurants which I discovered in the past year that you absolutely have to visit.

1. Salt Tasting Room – if being located at " 45 Blood Alley" in Gastown is not mysterious enough, try walking the back alley front entrance to Salt Tasting Room. Little sampler plates (ie. ham and honey) paired with bite-sized bread pieces and eating at long, industrial tables makes this restaurant an interesting dining and tasting experience.

2. Chill Winston – clearly I have taken a liking to Gastown. Chill Winston at 3 Alexander Street is so central in the Gastown neighbourhood it's great for food and drinks before a night out in downtown. And its huge, heated patio gives this venue extra seating.
3. Sanafir – I like tapas and bite-sized dishes! This Glowbal Group restaurant, with its oriental decor, is located (but well hidden) on the Granville strip at 1026 Granville Street. Long story short, choose an animal (pork? beef? calamari?) and have three sampler dishes brought to you for $14. Be sure to order a side of naam bread to pair with the main. As a bonus, there are beds (!!) for you to eat on for a unique and special dining experience.