In the winter, sometimes it gets too snowy in Vancouver to play outside. Guest-writer Alicia Woodside has come up with a three-part fitness regimen for you to follow at your local aquatic center.
By Guest-Writer Alicia Woodside
No need to splurge on a membership to a health club! All you need is a quick visit to your local aquatic centre. At the aquatic centre, you have everything you need for a great workout and spa treatment. Start with an awesome, low impact workout in the pool, add some quick strengthening exercises once you get out, and then experience the relaxing benefits of the hot tub, sauna, and steam room. Try the following suggested three-part workout, and feel toned, fit, relaxed, and rejuvenated!
1. AQUATICS:
The pool offers many activities to keep your body in its hottest shape. Swimming is one of the best ways to increase cardiovascular fitness level, and it's also a great way to build strength in the abs, back, and shoulders. It even improves flexibility! If swimming isn't your forté, try joining a high-energy, aquatic fitness class, or try pool running for a great low-impact alternative to running on land.
Aim to spend forty-five minutes towards a pool workout.
2. STRENGTH:
Afterward, do two or three simple exercises to build strength and muscle tone on a mat beside the pool. Try the following: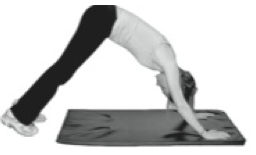 For yoga enthusiasts, start with your hands and knees on the mat, with toes turned under and hands positioned slightly past the shoulders. Exhale, and raise your knees from the floor, keeping your toes planted firmly in the ground. Imagine that you are driving your heels into the ground. Sink into the stretch by pushing your tailbone toward the ceiling and pulling-in the abdominals. Keep the legs straight, but not locked at the knees, and keep your head hanging gently between the arms. Hold for one to three minutes, and then release the stretch by bringing your knees back to contact the floor.

Lie on your stomach on the mat, and contract the lower back to raise your chest off the floor. Keep your hands either in front of the forehead, or resting gently on the back as illustrated in the photo. Be careful not to strain your back, only lifting to an extent that is comfortable. Hold for 30 second to 1 minute. For an even greater challenge, try lifting your legs off the floor at the same time!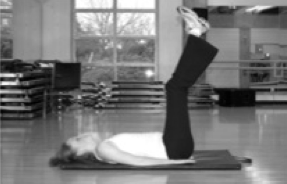 Lie on your back on the mat, and place your hand under your bottom. Raise your legs into the air so that they are perpendicular with your upper body. Use the lower abs to lift your bum off your hands and into the air. Hold each repetition for two seconds. Try 2 sets of 10-15.
3. RELAXATION:
After your workout, reward yourself with a relaxing trip to the sauna, steam room, or hot tub, (or all three)! These facilities provide many immense health benefits to add to your awesome workout. The sauna and steam room provide stress relief, improved joint mobility and circulation, and even an immune system boost by increasing the number of bacteria and virus-fighting cells in the body.
On top of all this, the heat and steam provide amazing benefits to the skin, being recommended by many dermatologists. The environment opens the pores to allow a natural cleanse of the skin, and increases circulation, bringing more oxygen and nutrients to the surface and creating a beautiful, glowing complexion. Hot tubs provide many benefits as well. They're a great way to repair muscles from the workout by increasing nutrient flow to the areas of muscle damage. Try to make as much use of these facilities as possible, by incorporating them into your workout routine! This way, you will receive the many health benefits on a regular basis, and you will be more likely to keep up with your exercise habits, by making your routine fun and rewarding.
Enjoy the workout!