I'm no beauty expert, but I am a girl with chapped lips. Inspired by the freezing Vancouver weather, being snowed-in at home and the MMV article "Battling the Winter Skin Blues", I decided to come up with my own list of products to help chapped lips in the winter. Unlike my Mac lipglass and Chanel lipgloss (great color choices, crappy moisturizer), the below are my personal top three picks and the first products I reach for when my lips go dry and bizerk in the winter weather.
Bigelow & Co Rose Salve $5.50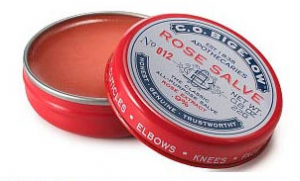 In a recent issue of Cosmopolitan Magazine, a hundred celebrities listed out their top beauty must-have and "Smith's Rosebud Salve" came up twice. In my confused eagerness, when I saw the similarly packaged Bigelow & Co Rose Salve at Bath & Body Works, I snatched them up right away. Only after re-reading the article did I realize I got the wrong product, but I'm sure this one works just as well. Packaged in a cute vintage/retro tin, the rose salve has the consistency of petroleum Jelly (ie. Vaseline) with a slight rose scent from its 0.9% rose extract. This product actually places #1 on the Bigelow Chemists top-sellers' list. As a bonus, you can use this product on your elbows, cuticles and any other skin that feels dry! What a well rounded product. I bought this at West Edmonton Mall (only 5% tax!), but you can order it online here.
Kiehl's Lip Balm SPF 15 $9.50

I really wasn't going to open the new tube of lipbalm I got. But in my rush to head out the door and being unable to find my tin of rose salve (see above), I grabbed my new tube of Kiehl's lip balm. I don't know how else to describe it, but as soon as I put it on my super chapped lips, my lips felt like they were melted into moisture. This product comes in three shades – 30G ("light golden with peach tones"), 58B ("cooler red tones"), and clear. I generally don't buy lip moisturizers tinted with color because they make me feel "unhealthy", but this one's not bad and the 30G color is very subtle. I got mine at Holt Renfrew but you can pick one up at any freestanding Kiehl's store as well – such as on Robson and Burrard or order online here.
Smashbox Lip Exfoliant $18.00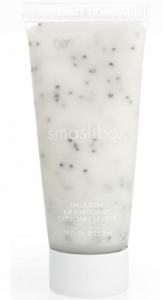 This Smashbox product is a sugar-based and peppermint-infused lip exfoliant, and enhanced with vitamins and soothing conditioners for your dry lips. If you've ever used bath products with coarse exfoliants, this feels the same, but for your lips. Basically, you rub this grainy product on your lip until it feels smooth and leave it on for a couple of minutes and then wipe it off with a tissue. I didn't personally buy this but I borrowed it from my mom's collection. As far as I'm concerned, you can buy Smashbox products at selected Shopper's Drug Marts or online here. On a sidenote, I was surprised to find a whole ton of beauty deals (samples, free shipping, bonuses, etc.) on the official Smashbox website. Way too many details to list out here, but check it out for yourself. It might even be wiser to buy online because of all the bonuses than from an in-person cosmetics counter.
Lastly, as "runner ups" in this article, I would also recommend Burt's Bees and Softlips as products to use on chapped lips.
Anyway, I hope these suggestions have inspired you to ditch the lipsticks and go for the healthier moisturizing products instead. Let me know if you've used any of these products or have any lip moisturizing recommendations for chapped lips. But by the looks of it, I have enough lip products to last me through this winter and the next!