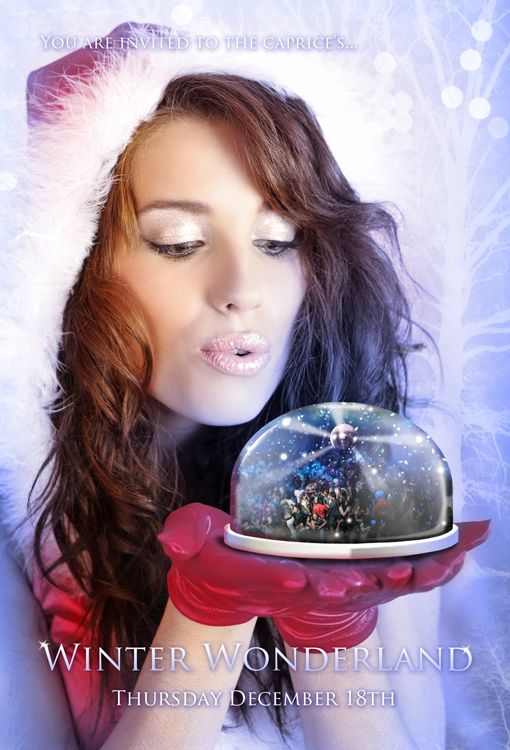 So I ended up going to Caprice's Winter Wonderland Party on Thursday night. As I mentioned in one of my previous posts, I was postal mailed invitations to this special event! And because i actually went, I guess that makes me a victim of direct-mail marketing!
Nonetheless, I had quite a good time on Thursday night. However, I was a little bit disappointed by being mislead by the Caprice invitations I was sent. "Free cover" with a minimum $10 donation to the "John Kerasiotis Foundation". "Free drinks" with a minimum $10 donation to the "John Kerasiotis Foundation" Foundation. (For all we know, that can be the owner's name! (Which it's not … but potentially!) Actually…I just tried to Google the name to link to it and couldn't find anything relevant. Sketch, much? Can anyone confirm?
Anyway, thank goodness we got our re-entry stamps early and didn't have to stand in the notorious lineup for 30+ minutes. Apparently they were serving meat skewers and other appies at the beginning of the night. Overall, I was pleased with the music and its selection of not-so-mainstream progressive and electro house beats and even more impressed that the dance floor didn't clear out as soon as a non-radio song was played. Steve Angello, Deadmau5, Benny Benassi … you get the idea? We were horrified when the ever-so-depressing "Last Christmas" remix was played, but nonetheless, a couple of holiday tunes were creatively spun into the to 40 dance mix. Overall, I like the Caprice as a venue with its open dance floor and its balcony overlooking the first floor. Bouncers can be a bit unfriendly at times, and the lineup unreasonable, but in general…decent, decent.
Click here to see the Clubzone photo gallery from this event.