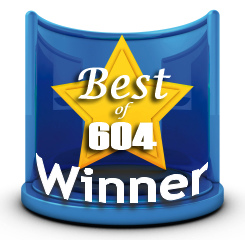 Last Thursday, at the Best of 604 Awards Reception at The Cellar (1006 Granville Street), over a hundred local bloggers and industry specialists gathered together with their friends and family to celebrate the Metro Vancouver Web Awards. Hosted by Rebecca Bollwit (also known as Miss 604), this sold-out event was a multitude of reasons to celebrate – an awards reception, a holiday party, a networking event, a social gathering and last but not least, the rare opportunity to meet the faces behind some of the Vancouver's most dedicated bloggers.
I just want to thank everyone who has supported Modern Mix Vancouver over the past 6+ months. MMV started off on as an outlet for me to write about events in Vancouver that I have attended as well as post up sample sale information, and other trendy Vancouver knowledge. I had no idea that, only a couple months into this, I would be attending a bloggers' gathering to celebrate the "Best of 604". If you want to get a glimpse of what the awards reception was like, the entire awards presentation is streamed here. Fast foward to about 21 minutes remaining to see and hear me being enthusiastically geeky. ("yay! i won!").
As for prizes – the best "prize" I got was bragging rights! Nonetheless, Social Bites sponsored the "Best New Blog (2008)" category with two tickets to their next dinner excursion on February 7th. Other prizes included swag from 6S Marketing and Bridge Magazine. Speaking of which, my fashion article "That's So European", as well as some of my European travel photos, are published in the 3rd issue of the aforementioned Bridge Magazine at locations including Chapters (downtown), Duthie Books (West 4th), and the UBC bookstore or you can order directly through their Facebook Group.
Anyway, of the 16 nominated websites in the "Best New Blog (2008)", Modern Mix Vancouver won with 31% of the votes. Lo and behold, below is the list from the Best of 604 winners!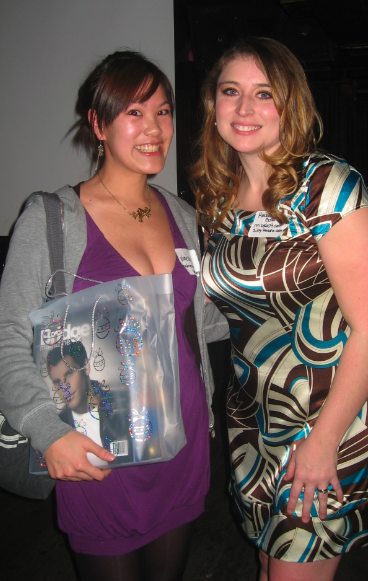 Best New Blog of 2008:
1. Modern Mix Vancouver 31%
2. 3 Degrees West 12%
3. Tiny Bites 9%
Best site for Sports:
1. BC Soccer Web 35%
2. Canucks Hockey Blog 35%
3. Outdoor Vancouver 15%
Best Podcast (audio or video):
1. Lipgloss and Laptops 35%
2. Choogle On 14%
3. TikiBar TV 11%
Best site for Events:
1. Beyond Robson 40%
2. From Blown Speakers 19%
3. Vancity Buzz 13%
Best Multi-Author site:
1. The Tyee 23%
2. Beyond Robson 16%
3. Vancouver is Awesome 15%
Best site for Tech:
1. Buzz Networker 21%
2. Techvibes 18%
3. iPhone in Canada 16%
Best site for News:
1. The Tyee 23%
2. CBC 21%
3.News 1130 16%
Best site for Politics:
1. The Tyee 35%
2. Matthew Good 22%
3. Jonathon Narvey 18%
Best site for Humor:
1. The Province Live @ 5 24%
2. CondoHype 17%
3. Your Dose of Lunacy 13%
Best Company blog:
1. Raincity Studios 18%
2. BuildDirect 17%
3. 3 Degrees West 10%
Best site for Food (directory or blog):
1. The Well-Tempered Chocolatier 14%
2. Farmstead Wines 11%
3. Chow Times 10%
Best site for Photos:
1. Waxy Photography 16%
2. Marc L'Esperance 13%
3. Blue Olive Photography 11%
Best site for Fashion or Style:
1. Demicouture 24%
2. The Style Spy 20%
3. The Conveyor Belt 17%
Best Personal site:
1. John Chow 46%
2. Gus Greeper 7%
3. Delicious Juice 6%
Lastly, a special thank you to that dedicated MMV reader who nominated the site for the award. Without him, I wouldn't even have known about this!