Looking for something to do? Every Monday morning, we present to you "Modern Mix Monday", a brief but link-filled one-liner review of our past weekend loaded with suggestions to inspire you for your next!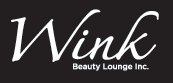 On Saturday evening, I went to Wink Beauty Lounge (67 East Cordova Street) for The Style Spy's Holiday Shopathon event. After a fifteen minute walk from Waterfront Skytrain Station, we graciously accepted a warm welcome into the brightly lit Wink Beauty Lounge in Gastown. The retail shop, with its whitewashed walls and clean white shelves, allowed its beauty and makeup products to colorfully stand out and be tried on.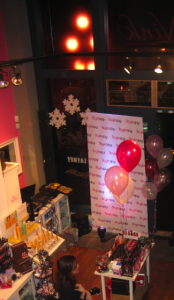 The retail part of Wink reminds me a lot of Beauty Bar in Yaletown, but perhaps with lesser known brands. Brands which were familiar to me included OPI and Essie. The brands that I didn't recognize were all packaged in a young and trendy fashion, such as 100% Pure, a bath, body and skincare line which boasts its lack of "synthetic chemicals, chemical preservatives, artificial fragrances, artificial colors, harsh detergents or any other unhealthy toxins".
The part of Wink that I didn't get to experience this weekend includes its extensive list of beauty services – particularly its eyelash extensions which start at $65. Other services include facials, waxing, manicures & pedicures and even a special section dedicated to guys who want clear and energized skin.