Secret Obsession is an intoxicating floral oriental fragrance weaving together forbidden fruits, exotic flowers and a sultry wood signature for a provocative and addictive sexiness.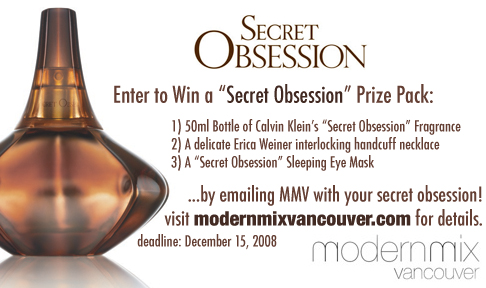 In collaboration with Calvin Klein's Secret Obsession…
CONTEST: In 100 words or less, tell us your "secret obsession" and the best entry will win a Calvin Klein "Secret Obsession" Prize Pack. Entries will be judged on uniqueness and humor! Email us with your submission at info@modernmixvancouver.com with the subject line "My Secret Obsession".
PRIZE PACK:
1) A 50ml Bottle of Calvin Klein's "Secret Obsession" Fragrance (retail $60);
2) A delicate, bronze-colored Erica Weiner interlocking handcuff necklace (retail $35);
3) A "Secret Obsession" Sleeping Eye Mask
DEADLINE: Monday December 15, 2008. Winners will be notified by December 16, 2008.
Please include your name, age and contact information. Winners will be asked for their mailing address and we'll take care of the shipping and handling. Submitted entries are property of Modern Mix Vancouver and we reserve the right to edit and post select entries on our website.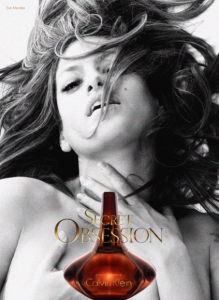 The scent of Secret Obsession is three-fold, yet are all intertwined with a woodsy aura of mystery from "forbidden fruits" (exotic plum, mace, rose de damas) in the top notes, "exotic flowers" (egyptian jasmine, french orange flower, tuberose) composing the heart of the fragrance and "mysterious woods" (cashmere wood, burnt amber, australian sandalwood) as a subtle background.
Some may have heard about the controversial advertisement featuring Eva Mendes, actress and spokesperson for Calvin Klein's Secret Obsession. Naked, in a black and white commercial, and lying amongst strategically placed crumpled sheets, a flash of nipple deemed this commercial too racy for mainstream American media. But public opinion has been labeling this as a well-executed publicity move, as controversy leads to free publicity which has resulted in hundreds of thousands hits on Youtube for the uncensored version.
Curious? Click here to watch the 30 second commercial on YouTube.