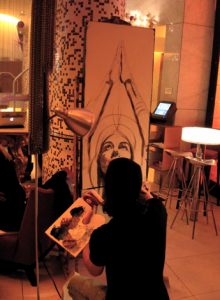 By Guest-writer Joanna Lee
Last night was the monthly Van Gogh Live Art Series held at Opus Bar in Yaletown.   The unique event concept featured local artist, Michael Solomon, creating art on the spot.  On a nearby table was an auction form on which potential buyers could put a bid on the piece of artwork by the end of the night.  Guests were also treated to an in-house DJ and complimentary tastings of Van Gogh vodka mixed with hot chocolate topped with whipped cream.   
The Van Gogh Live Art Series takes place the first Wednesday of every month at Opus Bar and Hotel in Yaletown.