By Guest-writer Alicia Woodside
Perhaps it's the prominent return of Starbucks' festive red cups this past week, or the cropping up of holiday displays in countless store windows … For whatever reason, I feel it is the perfect time to share what makes my list of fitness must-haves for this holiday season! Check it out for your holiday shopping guide in everything from athletic wear and gadgets to creative lifestyle products; a great treat for yourself or that special workout buddy!
1. SUGOI Hydrolite Jacket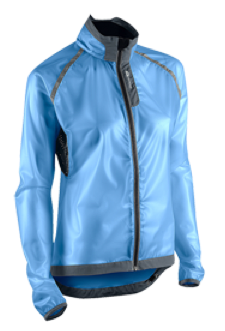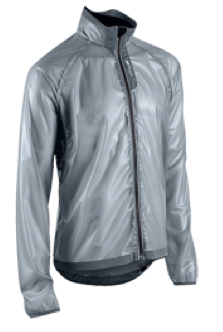 There really is no excuse to get outside when it's raining, especially with this new jacket from Sugoi! The hydrolite fabric completely repels water, by perforating its surface to bead away any amount of liquid that comes in contact, making it completely waterproof. Seems like the perfect gift for us outdoor enthusiasts in Vancouver! It's extremely lightweight, so it feels as though the repelling action is the work of your own body! A worthwhile investment if you plan on living in Vancouver for anytime spanning October through April!
PRICE: $120
2. Audiobook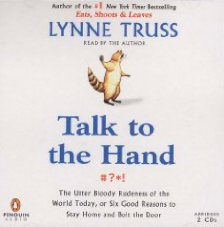 A great way to train for endurance is to first accomplish that long run, bike, or elliptical session with the help of an entertaining audio book. Enjoy your favourite book while you accomplish your exercise! A Great way to achieve more in one day. Available through Itunes as an immediate download, or discounted versions through shipment at Amazon.ca.
Alicia's pick: Talk to the Hand by Lynne Truss. Why this book? Loaded with dry humour and cynicism, Talk to the Hand is the hilarious outcome of a woman enraged by the world's declining manners… Makes for guaranteed laughs. It's perfect to read when angry, to hear someone else who is both funny and angry.  
PRICE: $5+
3. Bluetooth Headphones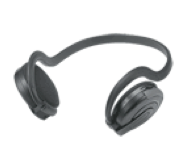 Bluetooth technology allows electronic devices to communicate wirelessly. For mp3 players, that means the transfer of music to a headset, without a cord! This allows you to workout without getting tangled, which is especially useful for activities requiring lots of movement, such as skipping. Makes running and exercising more streamlined. Shown left, the Insignia Bluetooth Headphone is available at Future Shop.
PRICE: $50+
4. NIKE WINTER COMFORT: Matching Nike "Thermal Running Gloves" and "Thermal Run Skullcap"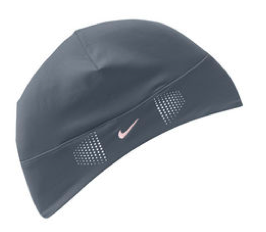 These gloves and toque are made of the most soft, comfortable dri-fit fleece fabric. They'll keep you warm on a winter run, or even on your way to the gym or a practice. The lightweight material and dri-fit nature make them great to wear while exercising. Not only that, the colour combinations are awesome, making them practical and stylish… Who says you can't be cozy, and even stylish, while you exercise?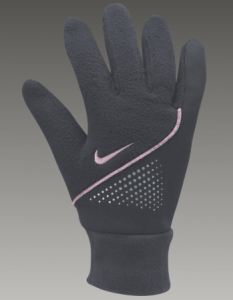 The thermal running gloves are available in four colour combinations: solid black, gray/red, gray/black, and, as pictured, my personal favourite: anthracite/sheen/silver. The gloves are also thoughtfully designed, with a mini pocket to hold a key! (No more having to hide it in your flowerpot)…
As for the Skullcap, some of the other well-designed features include an opening for a pony-tail in the women's toque, so that staying warm doesn't have to compromise your look, as well as fleece that extends to cover the ears.
PRICE: $25 Each
5. Lululemon Sporty Arm-Warmers
Another thoughtful product by LuluLemon, these lightweight arm-warmers are great for virtually any sport. Made of the company's breathable Luon yoga-wear fabric, with brushed fabric on the inside, these arm-warmers provide a light, insulating layer. With a built-in key and credit card holder, they also make the active lifestyle more worry-free. Wear them under any garment of clothing: on bare arms when out for a run on a warmer winter day, or underneath base layers for skiing and snowboarding. They come in a great selection of solid colours to suit your style.
PRICE: $29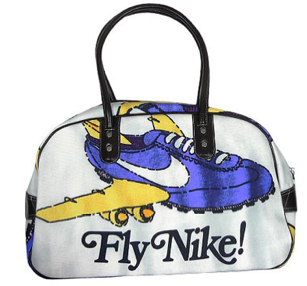 6. Nike Vintage Bag
If it's time for a new gym bag, check out these stylish carriers from Nike. The bags show off your athletic side, with images such as a vintage running shoe, or with text about running. Great shape and size that makes them ideal for going to and from a practice or workout.
PRICE: $50 to $80
7. Waterproof iPod Case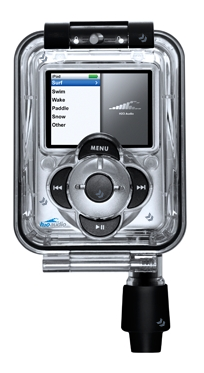 If you enjoy listening to your ipod, and have difficulty leaving it behind when you go for a pool workout, try this waterproof iPod cover, designed for Classic, Nano, and Shuffle models. This casing allows you to submerge your ipod completely underwater for up to ten meters, which makes it great for swimming, monotonous pool running, and those who tend to fall a lot snowboarding! View the impressive full line of products at H2Oaudio.com.
PRICE: $80