Boudoir – Holiday Fashion Show at Opus Hotel
By Guest-writer Hannah Willetts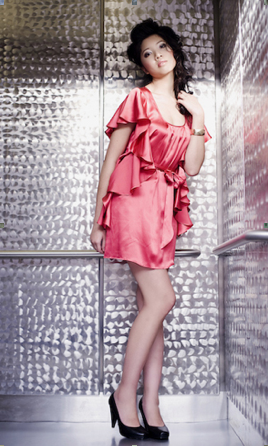 This Thursday we were able to attend Boudoir's Holiday Fashion Show at the Opus Hotel. If there was any event that could put you into a holiday mood, it was this one. Opus is a beautiful L.A inspired lounge, with white tile walls, and high ceilings, which were decorated with sporadic large glittering stars hanging above us. In a warmly lit room, plied with wine and addictive appetizers from Opus Bar's O bites menu, (the caramelized onion tarts were divine, while my companion enjoyed prosciutto, melon and goat cheese canapés), we were able to view the parade of models at eye level in a makeshift runway. The models' hair was styled by Blo, in simple glossy and sleek styles, while their makeup was done by Skoah, giving them a very dewy, glimmer and clean look. The girls strutted their holiday best to the very beautiful and unique strumming of live violinist Rosemary Siemens.
The dresses themselves were a myriad of satins and modals, in blacks and creams for all of your formal events, as well reds, sky blues, champagnes, coffee brown and greens for a few punches of eye catching colors. Over 25 dresses traipsed down the runway, in styles for the flirty and feminine girl, such as their salmon satin dress (notably worn by the beautiful violinist), with a scoop neck and voluminous short sleeves.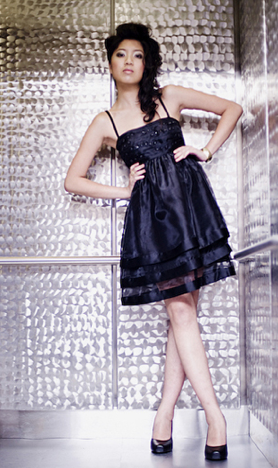 A brown satin number was also an eye catcher, cut above the knee with a tie at the waist and a rounded neck line. Memorable was one of their many LBD (Little Black Dress), a bandeau topped, spaghetti strapped a-line dress with a little bit of volume and a light detail of sequins and beading at the bust. All of their dresses were the demure, flirty variety, without much in the way of Uber, glitz, save the attention stealing Sienna Miller- meets Charlie Brown, black and silver sequin ultra mini dress, perfect not only for clubbing but also your more stylish and trendy events.
The night definatley peaked our interests! We stepped back out into the frigid Vancouver night from the warm lounge thinking to ourselves, about what we will wear to our next holiday event? Boudoir is situated at 102-1230 Hamilton boutique is open Monday to Saturday 11-7 and Sundays 12-5, and is sure to attract many a girl for their pre-party shopping needs.
To see the photographs by Hong Photography from this event, click here.