One of a Kind – Christmas Show and Sale

STAY TUNED FOR ONE OF A KIND 2009: OCTOBER 7 to 10, 2009!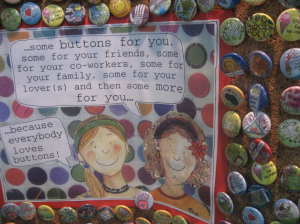 One of a Kind (OOAK) was an absolutely refreshing Christmas Sale to attend and most definitely in the running for the best of the season. In its first year in Vancouver (originated from Toronto), OOAK brought together artisans and designers from all across Canada. Trendy goods only, please! If you're looking for grandma's knitting or gift-y figurines to be left on the mantle to collect dust, this is NOT where you should be. At OOAK, every booth was filled with trendy products – from Luxe Design, which have been sold at fashionable retail outlets such as Blue Ruby since 1995, to Black Drop Designs with resin photo pendants.
In a free-standing booth in the middle of BC Place Stadium was a small stand run by "Sister Sister" dedicated to selling buttons. From one-inch pins and magnets to larger circular mirrors, cutesy designs and slogans (ie. "cute as a button") brought a splash of childish color with "…some buttons for you, some for your friends, some for your co-workers, some for your family, some for your lover(s) and them some more for you…" [photo above]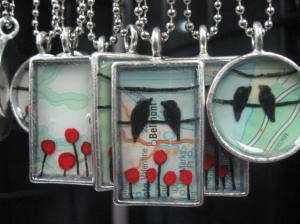 Speaking of buttons, here is a a special mention to Rachel Ann Austin, who gave out free one-inch buttons at her booth with her signature hand-drawn birds on wire designs [photo right]. In addition to several paintings of a similar style, there was also a collection of pendants for $25 a piece. Similarly, Skipping Lilies also sold soldered pendants, but with real pieces of nature like flower petals encased between glass [photo below].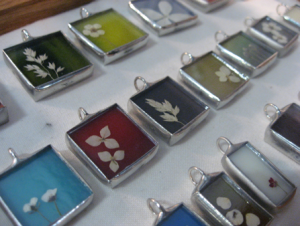 The food section was also great. A booth selling fudge with flavors from coffee to toffee handed out samples.Across the aisle was another booth selling candied apples. Priced at $10+ each, One of a Kind caters to a more affluent audience – expect some Meinhardt and Urban Fare shoppers lurking in the food section. For the rest of us, simply looking at the minimalist packaging brought on a wave of aesthetic appeal, such as a selection of specialty teas, packaged in long silver tins. I will most definitely be back next year to see what new talent our city, province and country has to offer!
Can't get enough of One of a Kind?  Click here to read the Modern Mix Vancouver article on the media preview event.