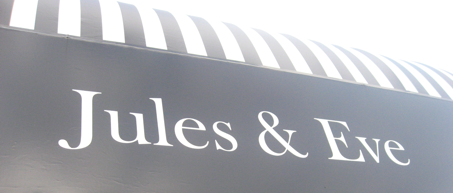 I attended the grand opening of Jules & Eve (2009 West 41st Avenue) this past weekend and met the owner Sara Au Yeong in person and, later on, had the opportunity to ask her a few questions.  Originally, Sara wanted to open a cosmetics store, but was inspired differently when she saw the beautiful dresses on the hit TV show Gossip Girl and realized the need for a high-end dress boutique, especially in trendy Kerrisdale. A majority of the lines carried in the store have all been featured on the show.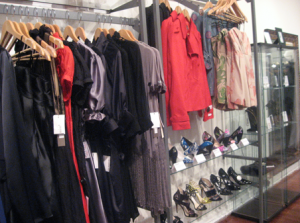 MMV: Who is your favorite character on Gossip Girl and why?
Serena because I love her personality the best. She can carry any style with poise
MMV: What do you predict will be the upcoming trends for Winter and how will the styles at Jules & Eve reflect your insight?
Classic tailoring that is feminine is definitely coming back in a strong way. Take Jay Godfrey's pieces for example. His training with Oscar de la Renta has certainly been rewarding for us shoppers of course. Embellishments is huge as well. I am seeing it represented in belts, bags, dresses, etc…It is not ethnic looking at all but simply pretty and refined.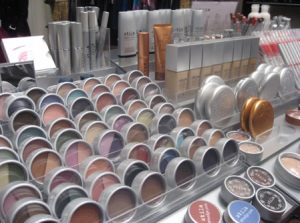 MMV: What are the benefits of having an in-store Stila Cosmetics Counter at Jules & Eve and what is your favorite Stila Product and why?
We offer make-up applications by trained make-up artists at our store. Like wine pairing, it is important to have the correct make-up with a masterpiece (dresses, that is).  My favourite Stila Products are: Illuminating Concealer, Long Wear Lip Color, Illuminating Powder Foundation, Smudge Pot, Pressed Powder, Major Major Lash Mascara in Black.
=========
From the press release:
Fortunately, Jules & Eve offers fashionistas an uncomplicated and satisfying shopping experience. With their limited number of pieces, style saavy shoppers can pick out a trendy and unique outfit without worrying about running into their clone at the same party. And don't worry, Jules & Eve also carry the perfect accessories to match: shoes from Ruthie Davis, purses by Felix Rey, jewelry by Simply Sublime, make-up from Stila Cosmetics, and many more. In fact, they're the only store in Canada authorized to sell Stila Cosmetics with pro-artistry discounts to people in the industry.