At BC Place this November 20th to 23rd for the One of a Kind Christmas Show , BC Place will be filled with thousands of savvy shoppers and 200 artists, artisans and designers from all across Canada. The One of a Kind Show is a very different sort of Christmas show. True to its name, each exhibitor must be directly involved in the production of their crafts and each piece in the show must be handmade. One of a Kind Vancouver will be the place to source everything from homemade preserves to luxury fashion items.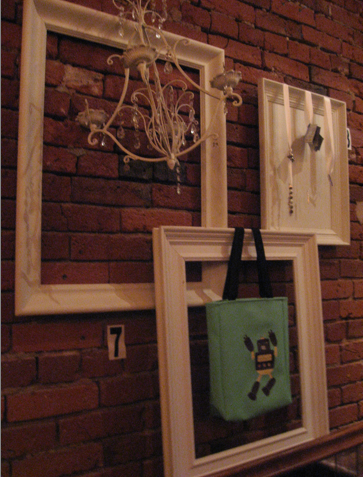 The One of a Kind Show began in Toronto in 1975, and is now an Eastern Canadian shopping tradition. Craft shows are becoming increasingly popular with consumers who realize the value of purchasing from local artisans as opposed to supporting overseas factory-made goods. Now on its 33rd year in Toronto, this marks the first time that the One of a Kind Christmas Show and Sale has come to Vancouver.
This is definitely one of the more "trendy" gift fairs to visit this holiday season. You may have seen their advertising campaigns around the city and, from a marketing perspective, you can see that it's targeting a "modern mix" of visitors.
Last month, I went to the One of a Kind preview at Medina Cafe in downtown and had the opportunity to meet several of the participating artists. From jewelry to bags to clothing and artwork, there was a diverse range of unique gifts to suit every one's taste.
What a small world because I happened to have gone to the same high school with one of the artists, Emily Cooper, who is specializing in mixed media photography.
Emily Cooper is a Vancouver based artist whose work has been published in Applied Arts Magazine and the National Post. Her pieces incorporate imaginative photographs of eggs, butterflies, leaves, and landscapes that are then layered together to create unique multi-dimensional art pieces.
And Emily is just one of the 200 amazing artists who will be present at One of a Kind this year. I would highly recommend checking out their website for more details!
Thursday November 20th to Sunday November 23rd, 2008
Thursday to Saturday, 10:00 am to 9:00 pm
Sunday, 10:00 am to 6:00 pm
Tickets to the One of a Kind Show will be available at the door or online.
Adults $10.00
Seniors (65+) $6.50
Students (13-17) $6.50
Children (12 & under) Free
Tickets will also be available for pre-purchase online at www.oneofakindvancouver.com at reduced admission rate for Adults of $8.00