OPUS Hotel – Rooftop Restaurant Approval Meeting (Nov. 7, 2008)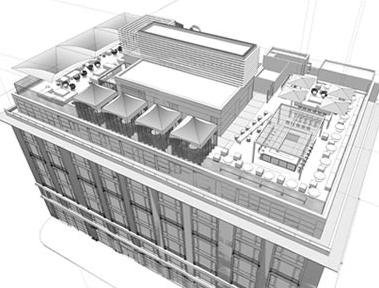 This past Halloween, I started off my night of barhopping in Yaletown at Elixir and Opus Bar; arguably two of the cornerstone venues most representative of the "Young Urban Professional" crowd. Now, Opus Hotel needs our help and support! Opus Hotel has made an application to the City of Vancouver to allow additional height and floor area to accommodate a seasonal 250-seat rooftop restaurant.
Their fifth and final approval meeting will be at City Hall (457 West 12th Avenue) this Friday, November 7th from 6pm to 8pm and the owner of Opus Hotel, John Evans, is soliciting your presence, support and positive feedback at the meeting.
The new restaurant would provide outdoor amenity space to hotel guests, local neighbours and Vancouver residents.The restaurant is intended to be a seasonal amenity, using temporary structures for weather protection. Screen devices and setbacks from existing roof parapets are proposed to mitigate issues of overlook, sound and visibility from the street.
For more information about the rooftop project, check out their official site.
For more information about the meeting at City Hall, check out the Facebook event.