Inniskillin Wines – 2010 Olympics commemorative icewine launch & public tasting (Nov 3, 2008)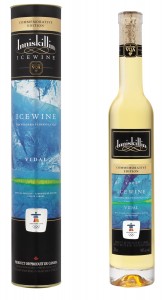 Inniskillin Wines is proud to be an Official Wine Supplier of The Vancouver 2010 Olympic and Paralympic Winter Games, and invites Canadians to celebrate the Olympic spirit and support Canadian athletes at home.
Inniskillin, a global wine icon, is launching its commemorative Icewine created by winemaker Bruce Nicholson, and labelled with the unique artwork of Canadian Artist Gord Halloran. A portion of the proceeds from every bottle sold will support the Canadian Olympic team and the Vancouver 2010 Olympic and Paralympic Winter Games.
Celebrate the Olympic Spirit with Inniskillin Wines on Monday November 3, 2008 at the BC Liquor Store on Cambie & 39th Avenue from 3pm to 5pm with a special public tasting. Commemorative pins, food samples and autographs available on a first come basis.
Who will you expect to see at the event?
Scott Starra

– Inniskillin Wines Marketing Director

Deidra Dionne

– 2002 Olympic Bronze Medallist, 2006 Olympian and 2010 Vancouver hopeful in freestyle skiing.

Steve Omischl

– World Cup Medallist and 2010 Vancouver hopeful in freestyle skiing

Gordon Halloran

– Canadian artist whose artwork is on the label

Thierry Busset

– three star Michelin Chef Patissier and CinCin 's acclaimed pastry chef