By Guest Writer Kenneth Law
I rarely am pleased with my fine dining experiences because the service, food and ambiance has never matched to the price. Like all serious luxury goods, I expect cost to rise exponentially while value only rises linearly for it, something only a special occasion or vast amounts of disposable income would call for.
But I found Fraiche (2240 Chippendale Road) to be an exception. The food was excellent and certainly not run of the mill plates that you could find, solidifying its fine dining status from the go. The dishes were very aromatic and it was obvious attention to fine details were paid to. Taste was very balanced and the appetizers and entrees we ordered relied strongly on the natural flavors of the ingredients. This is unlike many fine dining experiences I've had where they decided to put the meal on top of a plate of salt instead of the other way around.
I ordered the proscuitto as a starter with the pappardelle as a main, while my partner enjoyed the pan roaster spring salmon. The pappardelle in particular is an excellent vegetarian dish, full of strong aromas and attention to detail. The proscuitto was a bit on the strong side in terms of taste, but it is meant to be an appetizer and hence I had no complaints.
Pair these with a couple of glasses of white and the bill came to be around $100 before gratuity – hardly expensive for the amount of luxury, service, ambiance and gastronomic satisfaction we received.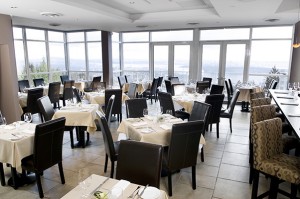 Service is great and meticulous – our waitress checked up with us frequently and was talkative and very friendly. Wine list is as expected of this establishment's caliber. We got view seating and the reservation was made just on the day – which doesn't mean this restaurant is unpopular at all. Given the amount of business they had that day it was obvious they tried hard to cater to the request I made on the phone. Ambiance of the place is gorgeous and it's only a 15 minute drive away from downtown, up some of the most beautiful homes and neighborhoods of the GVRD. It's pretty much the only restaurant in the region and you could walk out and take some picturesque views of the panorama or go for a stroll on one of the most expensive neighborhoods in Canada.
Highly recommended.