Erin Templeton Shoppe and Sample Sale (October 23)
Not too long ago, after one of the BC Fashion week shows, I dropped by the Erin Templeton Shoppe (511 Carrall Street) and was delighted to find a quaint little vintage shop in the neighborhood. With her own handmade leather accessories at the front and an assortment of vintage finds throughout the store, this boutique is one of a kind. What added to the homely feel was the fact that Erin Templeton herself was there offering advice on styles, sizing and alteration information on vintage leather jackets. But don't be fooled, even though her home-base is in Vancouver, according to her website, Erin's lovingly-made goods can be found not only in Canada but also in the US and Japan.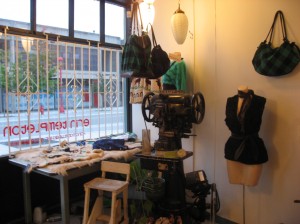 Anyway, this Thursday, the Erin Templeton Shoppe is hosting a sample sale of clothing and accessories with brands including Allison Wonderland, Mothertrucker, Olie and several other local brands. Details are below..
===============================
SAMPLE SALE

CLOTHING AND ACCESSORIES

WHERE:
ERIN TEMPLETON SHOPPE
511 CARRALL STREET (CORNER OF PENDER)
WHO:
ALLISON WONDERLAND
BABY DUST
ELIKA DESIGNS
ERIN TEMPLETON
IMAGINARY FRIEND APPAREL
MOTHERTRUCKER
OLIE
WHEN:
THURSDAY OCT0BER 23
4:30PM-8:30PM
CASH ONLY PLEASE