Modern Mix Monday – 49th Parallel Coffee
Looking for something to do? Every Monday morning, we present to you "Modern Mix Monday", a brief but link-filled one-liner review of our past weekend loaded with suggestions to inspire you for your next!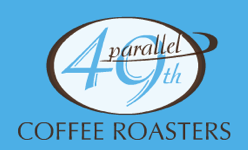 On Saturday, I went to 49th Parallel (2152 West 4th Avenue) for coffee. 49th Parallel is a local (Burnaby) coffee roasting company which supplies coffee beans to buyers all around the world and is founded by the same guys who brought us Caffè Artigiano. I have only been to 49th Parallel twice, but it's a great meeting spot to take a break from shopping along West 4th. Last time I ordered the Blue Earl Grey which came in a cute, baby blue teapot. This time, I ordered off the menu, a Chai Tea Latte.