I went to the "Coffee" red-carpet film premiere at Jupiter Cafe on Davie Street. Directed by Daniel-Ryan Spaulding, a Queen's University alumni, Coffee consists of an ensemble cast of 20 local actors with ten vignette snapshots of well-scripted conversations between two people having Coffee.
Coffee was an incredibly "Vancouver" film with scenes shot at several local hotspots, including scenes from Bean Around The World and JJ Bean. With constant references to Vancouver culture, perhaps you can spot yourself personified in one of the ten vignettes. I counted at least three mentions of yoga and brief references to Spanish Banks, Burrard Street and Shoppers' Drug Mart and an overall "gay-friendly" feel (can you spot the rainbow flag in the background with Ed & Geraldine in Part 2/10? Or the over excitement of Patricia in Part 6/10 about her gay best friend?)
My favorite scene got the crowd laughing out loud with Monica & The Meta Sister (Part 9/10) with a Black woman, "Hey Sista!", "in-your-face" attitude (snap snap!) as a Black parking meter lady ("The Meta Sister") walks down the street (coffee in hand, of course) with her timid White friend who was chatted up on MSN and lectures her on being Black Forest Cake, not Sponge Cake – sweet, plain but boring!!
Other notable scenes included a compulsive Shoppers' Drug Mart shoplifter who learns a lesson in inner peace and humility, a candid conversation between friends on sex (great filming and facial expressions for this one), an obsession with Grey's Anatomy, an awkward young boy meeting over coffee with a high-class hooker, and the formation of revenge plans towards a cheating lover.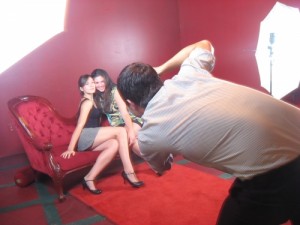 It was a diverse audience in support of Coffee, I wouldn't be able to make a sweeping generalization of the crowd. Nonetheless, it was cozy and candlelit atmosphere with couches surrounding small square tables and a big screen up front for the movie. A red carpet led backstage, for the actors to pose on a single plush red loveseat for a photoshoot with Mischa Bartkow ("not to be confused with Mischa Barton", remarked Daniel-Ryan in his speech).
Coffee was completed in August 2008 and is launching directly as a YouTube channel for the rest of the world to enjoy a little piece of Coffee culture.
Watch "Coffee" Online at http://www.youtube.com/coffeemovie.