Taste of Yaletown 2008 (October 14th to 26th)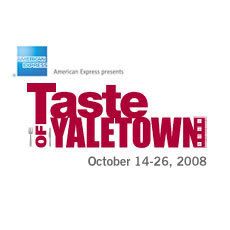 The fourth annual Taste of Yaletown is happening this year from October 14th to 26th.
Over 20 Yaletown restaurants will be offering special three-course tasting menus at set price points of $25, $35 and $45 with a portion of proceeds raised at each restaurant donated to The Greater Vancouver Food Bank.
Participating restaurants for 2008 include:
Amarcord Ristorante Italiano, Brix Restaurant & Wine Bar, Brown's Social House, Cactus Club Cafe, Capone's Restaurant & Live Jazz Club, Coast Restaurant, Elixir Restaurant, Fuse Pan Asian Express, George, Glowbal Grill & Satay Bar, Goldfish Pacific Kitchen, Hamilton Street Grill, Milestone's Yaletown, Pinkys Steakhouse, PlanB, Provence Marinaside, Rodney's Oyster House, Section (3), Simply Thai, Tequila Kitchen, Urban Thai Bistro, Yaletown Brewing Co.
Join their Facebook Group here!