A Change of Perspective
By: Guest-writer Hannah Willetts
On Thursday evening, I was lucky enough to attend the Changes (4454 W 10th) fashion show held at their Point Grey boutique. The store itself was delightfully cozy, jam-packed with patrons and Kwantlen Fashion Design Program students, not to mention the racks of conspicuously organized original clothing. Doors opened at 6:30pm, and refreshments served while we perused the one-of a kind store.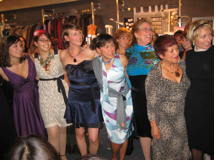 Changes offers shoppers "lightly used" designer clothing, for "real women". The clothing is both from consignment and store buy-outs, ranging from $20- $160, and accessories from local and Canadian hand craft designers, ranging from $3 -$60. Changes strives to provide for the modern women who is not constrained by sizes or media influences because, "size means absolutely squat!"
The show started after a tearful speech by Rhonda, who stated the store 11 years ago in Vancouver, after her mother's store in Calgary. Soon after the show began, showing various looks for fall, notably showcased on models of various shapes and sizes who are all loyal customers of the shop. Notable pieces were, a sea-foam green tunic blouse with silver sequins ($24), paired with a pencil skirt($89), and sling back Guess shoes ($39), as well as a black Kenzie blouse ($29), paired with a coral tank ($23) and a very characteristic 1950's inspired poodle skirt ($39). The crowd favorite by far a navy and black bandeau satin dress with a bow at the waist ($89) paired with a black faux fur vest ($119-French Spy), with black heels by Feet First ( a steal at $29), crowned by a Kazumi necklace, made of Czech Crystal.
The night was finished with a round of cake, and much shopping ensued. 100% of money raised this evening goes towards the Central Asia Institute, which includes the building of schools in Afganistan. If you're looking for a one of a kind piece in a store in which employees treat you like family, this is the place for you!
Their next show is on Oct 29th , for more info please see their website , or drop by the shop during opening hours:
Monday to Wednesday: 10am – 6pm
Thursday to Friday: 10am – 8pm
Saturday: 10am – 6pm
Sunday: 11am – 5:30pm