Photographs by Grace Lau.
Since 2004, Spend on Trend has been an annual weekend mini-tradeshow and retail exhibition for Canadian designers. Tickets were only $5 for regular attendees with partial proceeds to the St. Elizabeth Home Emergency Shelter. I showed up at the event location, at Scotiabank Dance Center, on the first evening and was greeted with an Urban Fair gift bag full of sponsored goodies. From a bag of coffee beans from JJ Bean, to an organic "Spend on Trend" t-shirt by Parade, it was a nice start to the evening.
With over 20 booths this year at Spend on Trend, the event was more personable than a trade exhibition but much classier than a stereotypical craft fair, it was a diverse yet lovely opportunity to converse with the individual designers. And each artist had so much to say about their creations – from belts to hair accessories, from Chinese silk to leather and from Victoria to Montreal, Spend on Trend captured the essence of Canadian design with a national diversity. Each item had its own story, and each artist told it well; a narrative of their background, their inspiration, their hopes and their dreams.
For example, Sasha Barry of Track & Field Designs aspires to eventually move into making clothing that
reflects the same feel as the rest of her products. Currently, Track & Field Designs specializes in cutesy vintage-inspired home and fashion accessories: from cloth pouches screen printed with nature motifs to sturdy pin-cushions accented with a wooden button
Meanwhile, Cory Judge of Shi Studio is based in Victoria yet draws her inspiration from Asian design by using silk from South China and India in her jewelry. She views her pendants as stained glass pictures, silk pressed between cut glass with the edges soldered with silver. When asked why it matters to use quality, imported silk in her work, Cory responded saying that high-quality silks have a texture, iridescence, sheen and shine which cannot be reproduced with anything less.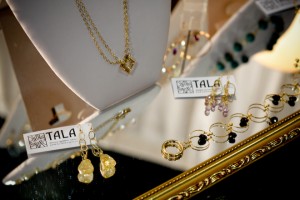 However, she's not the only artist at Spend on Trend with cultural diversity in her artwork. Bahar Taheri of Tala Designs used the Farsi word for "gold" to name her jewelery line. Adorned with Swarovski crystals and delicate chain, Bahar aims for a timeless look to her pieces which can be worn during the day with a smooth transition into the night.
With a bit of an edgier look, Kat Bachmeier, the co-owner of Catalyst Reaction uses leather in her gender neutral accessories line with an eclectic mix of nature and urban street in the designs. For example, the Vancouver city skyline is printed on one of her belts; the outline of bridges and buildings roughly sketched onto durable leather. According to Kat, no matter how masculine the belt, she still sees girls buying the belts for themselves!
Similarly, Giselle Duval of The Rave 'n' Iron creates her jewelry line with reclaimed steel and meticulously hand-etches her scenic designs.
In conclusion, Spend on Trend was a great opportunity to connect with the Canadian fashion community and celebrate the national talent and diversity of our local community and beyond. Visit their official website at www.spendontrend.com to sign up for their mailing list and keep yourself in the loop for next year!