Modern Mix Monday – Jules Bistro
Looking for something to do? Every Monday morning, we present to you "Modern Mix Monday", a brief but link-filled one-liner review of our past weekend loaded with suggestions to inspire you for your next!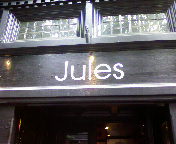 Jules Bistro (216 Abbott Street) is a French bistro located in Gastown and where I went for an afternoon sit-down on Saturday. Nonetheless, I would not recommend going there for tea and coffee as we did – save that for a specialty coffee or teahouse instead. With outdoor seating and the weekend sunshine, the patio was great for people watching while enjoying a reasonably priced light afternoon dish or a $6 dessert. True to its European flair, the restaurant is closed on Sundays. Otherwise, visit between 11:30am to 10pm.