O.B. Promotion – "mighty small"

**comic from asofterworld.com.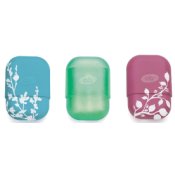 Speaking of tampons…this entry is for the ladies!
Not too long ago, I was contacted through Modern Mix Vancouver by Matchstick, a Toronto "word of mouth" company with O.B. as one of its clients. After answering a few preliminary questions, I was postal-mailed a huge (as in the-length-of-my-arm) trial kit with a ton of goodies, aka a comfort pack which included a bottle of EXTRA STRENGTH TYLENOL, a hot water bottle, the newest issue of Elle Canada, and a ton of tampon samples with cutesy, stylish case packaging (see picture on left – my friend and I were joking about reusing them for mints or gum), and an aluminum water bottle branded with the words "mighty small".
You may or may not have seen the recent O.B. advertisements in magazines, but I believe they are trying to promote the company's sustainability measures. I've scoured the internet, but I can't seem to find the one I'm thinking of so I will try my best to describe it to you instead. Basically, it's a full page magazine print for O.B. but only 58% of the page is utilized for the advertisement, demonstrating the brand's commitment to less waste in their products – aka no applicator.
Take this feedback survey, please!
For your own O.B. Samples, click here!