POP OPERA (686 West Hastings) had its grand opening last night. After over an hour of waiting in the guestlist line up (ironically, my guestlist didn't go through…but that's a whole other story) the only reason why my group of three made it through the wait was because we outlasted the lineup, contrary to many frustrated party-goers giving up and waving down cabs on the street instead. That being said, the lineup was one of the more enjoyable aspects of my night! The weather was fairly warm with no rain, the people in the line-up were civilized not rowdy, the bouncers were respectful not rude and I had the fantastic opportunity to catch up with two of my friends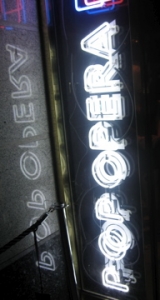 Once inside, coat check was $5: a steep price to pay on a summer's evening, but not atypical of the Donnelly Nightclubs. Pop Opera's interior had the same architectural structure as the old Club 686 yet modern updates, including lighting and artwork, gave it an upscale feel. This club was made for VIP – with several roped off areas encompassing white couches and rectangular tables, on top of which were menus for bottle service. Regardless, the club felt…cluttered…rather than spacious. True, the wooden dancefloor was large and accommodating, but tables were too close to the bar and more often than not, we had to squeeze past people in the narrowness.
Like any other club, the dancefloor had its moments with a jumping crowd one song and a dwindling, thinning crowd the next. Perhaps this was due to an erratic music choice. The featured DJs were "Flipout and J Swing" from The Beat 94.5 FM yet I found the song selection more appropriate for radio, not for a dancefloor. Perhaps that was the sound Pop Opera was aiming for – with a wide selection of song genres – from grungy hip-hip beats to classic oldskool.
A door to the left of the DJ booth led to a smaller area enclosed in dark glass. (For those of you who have been to the previous Club 686, this would be where the VIP seating was). With a square-ish dance floor and rounded walls with full length mirrors, a completely different set of music was being played absolutely isolated and sound proof from the main room.
Overall, the branding of "POP OPERA" brings to mind Andy Warhol style pop- art and bright bubbly colors (ie. the Friday night posters and guest passes for complimentary colors with its contrasting bright pink and pastels) yet the actual venue was inconsistent with my assumptions. Nonetheless, I am glad I had to opportunity to check out such a hyped-up and anticipated club 🙂