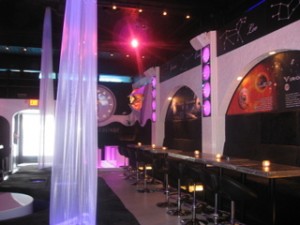 This past weekend, I had a chance to visit Space Lounge Restaurant (1149 Granville Street) which newly opened about a month ago in downtown, Vancouver. We sat at the bar for post-dinner, pre-clubbing drinks and I was able to talk with the Bar Manager Ivan Chew (AKA "Chewy") and the Space Lounge chef Matthew Phillip
What sets Space Lounge apart? Other than their zodiac-inspired space theme, with a wall of glowing space lights, translucent curtains, and menu based on the four elements (Earth, Water, Fire, Air), the kitchen and bar have very close ties. In fact, all their cocktail syrups are made in-house with fresh ingredients! Simmer equal parts of water and sugar and add in dashes of licorice, spices, fruit puree…anything! As a result, the flavors of the Space Lounge menu and cocktail selection are likely to complement each other. I ordered their most popular drink – the Pirahnna for its unique blend of flavors. Spiced rum! House-made pineapple syrup! In terms of prices, it's about $8 to $10 for a specialty drink – a little bit on the pricy end so make sure you try something unique! The bartenders are also equipped with bar tricks, so there was entertainment value in the tossing of shakers, and the pouring of alcohol at unusual angles.
As for its food, some bite-sized appies are served on silver spoons on a flat, square dish. Thanks to Chewy, I was able to sample a delicious bite of juicy mango topped with coconut sorbet. The other spoon held a square sliver of cheesecake. This serving-style reminds me of the appetizers at Whine-o's just down the street, where appetizers (mini meatballs, etc.) are also served on white chinese style spoons.
We stayed until about 9pm but apparently as the night goes on, Space Lounge turns into a little bit of a dance floor. However, it closes at midnight so for those who was to get their late-night/early-morning groove on, it's time to conveniently club hop down the Granville strip.