Last night I went to the Industry and Media Reveal for Tunnel Bar|Lounge (622 West Pender Street) which was an invitation-only event to preview the club before it opens to the general public. Thank you to DJ Skilla, the resident DJ at Ginger 62 for handing me these passes while he was DJing at my 21st birthday party last week. The event started at 8pm-ish and we were given complementary drink tickets (stylish, mini, fuscha-colored cardboard squares) in the line up. By 10pm the club was already starting to fill up with groups of people who know a lot of other people from working in "the industry". The picture below is taken from the BACK of the club, facing the front entrance: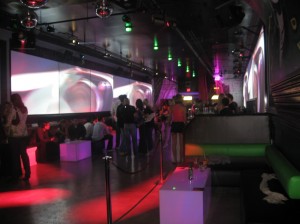 The Tunnel venue is a long, rectangular club. Looking through the entrance, you could see right to the end of the club, where the DJ booth is located. Coatcheck is on the right, a small, veiled VIP lounge is on the left. Beyond that, the bar, its white counter stretched down on the left side of the club while couches were opposite it on the right. Behind the bar were wide TV screens flashing scenes of a driver's-seat view of (appropriately) driving through a tunnel. At the back end of the room, with the dance floor and DJ booth, the walls and ceiling curved where they met to give the impression of a tunnel. The washrooms were slightly grungy with its with black walls and pink graffitti yet elegant chandelier lamps hung from the ceiling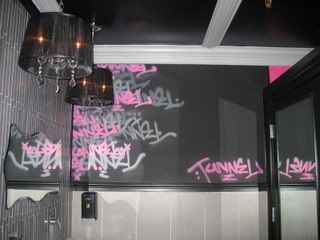 At the event, broadcasters were there to film the progression of Tunnel club – from the planning to the launch. They intend to pitch the series to a number of networks later this summer. I have to say, you should check this club out if not for any other reason than to see what the hype is all about. From my blog stats, more people are visiting Modern Mix Vancouver from search terms relating to Tunnel than any other search query.