Home » Featured, Food & Drink
Weekend Brunch Series – Hidden Restaurant (433 Robson Street)
Modern Mix Vancouver Weekend Brunch Series - If you're a foodie on a budget, going for brunch on the weekend is a great way to check out a restaurant without breaking the bank. As I 
have previously written on Modern Mix Vancouver
, Hidden Restaurant  is located on the second floor inside the Westin Grand Hotel in Downtown Vancouver. Every time I have gone there for a meal, I have been impressed by their extensive menu pairing and excellent service - going there for brunch was no different! Our meal started off with complementary breakfast pastries - a raspberry crown, a maple syrup plait and a cinnamon swirl.  (By the way, my pasty names could be totally off, I
found this image
off Google and matched 'em up).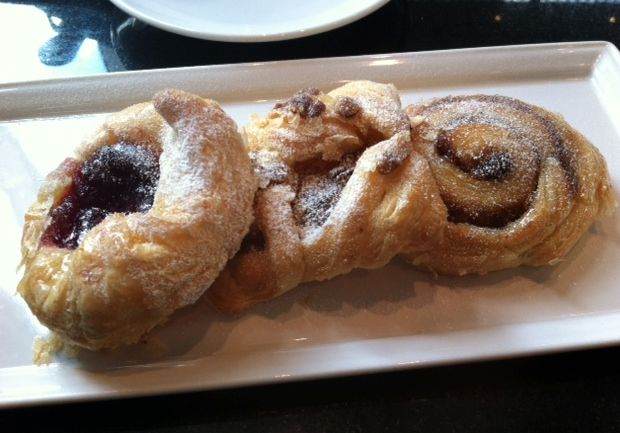 I noticed that many of the breakfast and brunch menu items have a slight flavour twist to them.  For example, the Buttermilk and Lemon Waffle ($16) were made with lavender butter, which is a unique butter pairing, or the Mexicana Benedict ($16) which was topped with a chili-lime hollandaise.  I ended up ordering the Frenchie's Breakfast Poutine ($15) which consists of two poached eggs served over roasted potato hash, little qualicum cheesery curds and topped with hollandaise.  I liked how the hearty serving of fresh cut potatoes was the focus of this meal - often in breakfast dishes, hash-browns are off to the side.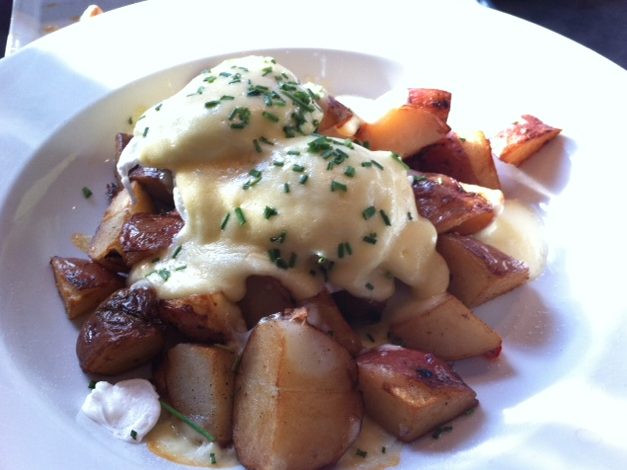 My friend ordered the Sausage Split ($19), which is a breakfast spin off from a banana split, consisting of three poached eggs on hash browns stuffed between a roasted toulouse sausage and finished with a sweet pepper relish.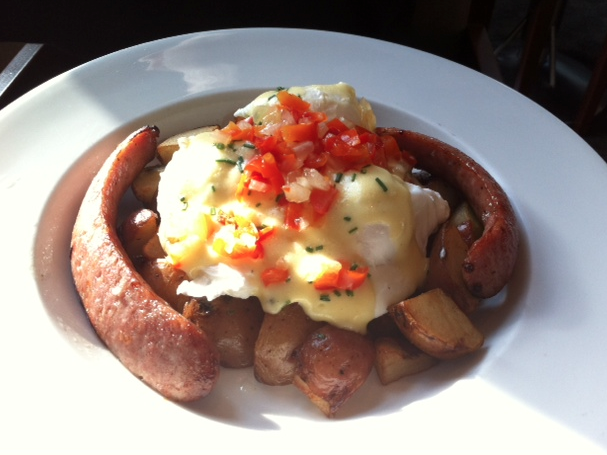 We also ordered coffee, and our server was thoughtful enough to put our last complementary refill in a disposable cup so we could keep the coffee with us while walking around downtown.  Not too many places would offer to do that - I think other breakfast restaurants have a lesson to learn from this! Lastly, if you are a local resident of Vancouver, you get 25% off your bill for breakfast & brunch at Hidden Vancouver!
Tags: breakfast, brunch, Dining, Downtown, hasbrowns, hidden vancouver, Hotel, robson, Yaletown