Have you always wanted to purchase artwork without having to pay cold, hard cash for it?  Now here's your chance to "buy" artwork using volunteer hours as the currency!   The third annual Vancouver Timeraiser (at the Roundhouse Community Center in Yaletown) is part volunteer fair, part silent art auction and part night on the town. Throughout the evening meet with different organization ("agencies") and match your skills to their needs.  Once you've chosen the appropriate agency, start bidding … in volunteer hours!! You have 12 months to fulfill your pledge to the agency … only then can you bring your artwork home as a reminder of your goodwill.  I'll be at the Timeraiser media event next week so stay tuned for more information about the Timeraiser organization, the contributing artists and their artwork, the agencies, and the volunteers involved who make this happen!  In the meantime, entrance tickets for $20 can be purchased here for Timeraiser 2010.
.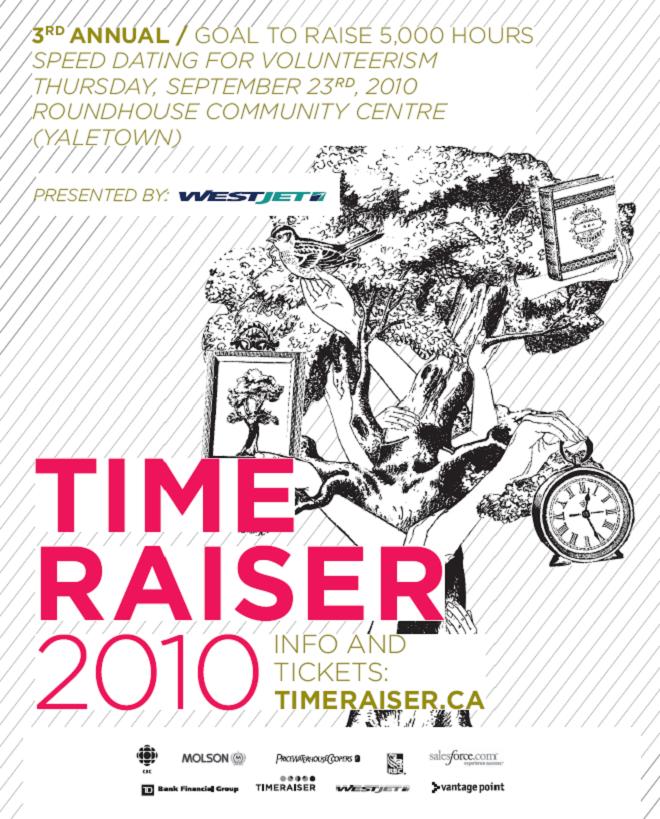 Vancouver Fashion Week (VFW) is looking for volunteers for the Fall/Winter 2009 season of shows! If you are interested, email Shallom Johnson (VFW coordinator) at shallom@vanfashionweek.com with a cover letter and resume.
.
VFW is currently accepting applications for the following positions/roles:
Show coordinators
Stylists
Designer liaisons (clothing/shoes/accessories/jewelry)
Buyer liaisons
Media liaisons
Sponsor liaisons
PR & marketing
Makeup and hair coordinators
Seating/VIP coordinators
Backstage and front of house staff.
What VFW needs from you: effective communication skills, ability to multitask, prioritize tasks, delegate when necessary, work independently and with a team, accomplish many things under tight deadlines and have professional writing skills.
.
Experience in the fashion industry is not completely necessary but is a huge plus – it's a lot easier to organize something of this magnitude when we have a team of people on board who understand how the industry works and what is required of them in that respect.
.
Show dates are still TBC but will be one week in March 2009. VFW needs people who can get on board from January onwards, and who are willing to make a firm commitment and deliver on their promises.