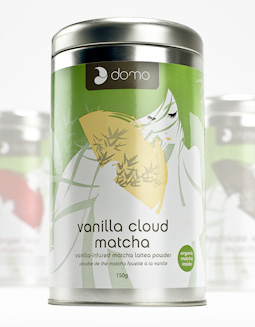 .
Not too long ago, I wrote a posting on Modern Mix Vancouver about Domo Tea's Chocolate Ecstasy Flavoured Infused Matcha. With the same craving for a sweet healthy drink this morning, I opened my new can of "Vanilla Cloud" flavour-infused matcha, which happens to be Domo Tea's top selling product.
Vanilla Cloud has a rich silky texture and a mild matcha flavour enhanced with natural vanilla. Made with organic matcha tea, organic evaporated cane juice, and all natural flavours. Contains no cholesterol and no saturated or trans fats.
As a personal preference, I enjoyed the vanilla more than the chocolate flavour – I thought it blended better with the matcha taste. To intensify the vanilla aroma, you can top up your drink with vanilla-flavored soy milk. At $10 for a 100g package in a resealable can, Vancouver-based Domo Tea products are available at several groccery stores (especially health/natural food stores) in our city, including Urban Fare and Capers.
Read More »