Shop Cocoon (3345 Cambie Street) is a boutique for emerging local designers to showcase their artwork, jewelry, clothing and design in shared retail space. On Thursday March 26, from 11am to 9pm, check out their "Spring Forward" designer launch event for a one-day sale to scope out your must haves for spring. The first 40 customers in the door will receive a free goodie bag worth over $35!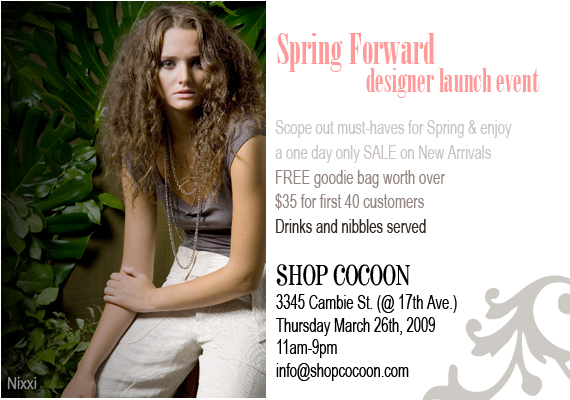 The concept behind Shop Cocoon (3345 Cambie Street @17th Avenue) is simple. Artists and designers lease shelf space from the store and are also required to work a minimum number of hours behind the counter each week, allowing them the opportunity to showcase their emerging brands without having to undergo the costs of starting up their own shop. The brands available at Shop Cocoon will not be unfamiliar to Vancouverites who are interested in the local and independent designer scene. From Tyte Lids to Filou Designs, these clothing and accessories have frequented the likes of Portobello West, Spend on Trend and more!
.
On Thursday December 4, from 11am to 9pm, save up to 30% off the entire shop for their friends and family sale. Goodies will be served.