Looking for something to do? Every Monday morning, we present to you "Modern Mix Monday", a brief but link-filled one-liner review of our past weekend loaded with suggestions to inspire you for your next!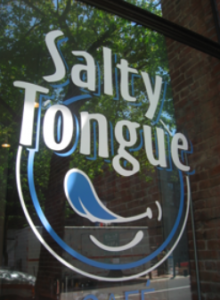 I went to Salty Tongue Cafe (213 Carrall Street) and was pleased to find yet another affordable but "something different" / "check this place out!" cafe in Gastown. Although the cafe-front is fairly small (but not tiny), with the blue and white Salty Tongue logo on glass, the interior of the cafe was spacious with the typical Gastown decor of wooden beams and brick walls. A loong table spanned the entire length of the cafe; it reminded me of the dining halls at highschool orientation/camping trips.
.
Get a piece of paper and check off what you want – from different types of bread (sourdough, etc.) and meat (turkey, roast beef, etc.), to sauces and dressings (ie. cranberry, dijon mustard, etc.) and veggies (onions, peppers, etc.) and cheese and build your own sandwich for only $6.95! Pre-built sandwich options were also available as well as a selection of soups and baked goods. As for the food quality – it wasn't great. The sandwich was much too dry – it would have been better if they could toast it pannini style and melt the cheese. However, a sandwich is a sandwich and you can't screw it up too badly. Conclusion? The Salty Tongue is a good place to eat at when it's your turn to suggest a cool place to eat at but don't have high expectations for the food.
Read More »