"One. The number of people it takes to make a difference."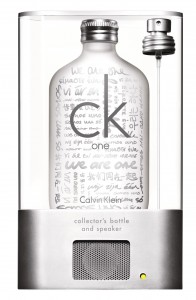 For those of you who buy beauty and fragrance gift sets, you are probably familiar with the little trinkets which come as a bonus with the product. For example, a cosmetic pouch to hold your new purchase, a mirror to check yourself out or a keychain with the product logo. Although these are all nice additions to your purchase, they are rarely useful.
However, with the relaunch of the "ck one" fragrance, the collector's edition gift set comes with a mini speaker set! Available in March 2009 (exclusively at Shopper's Drug Mart), the 100mL flask bottle is decorated with the tagline we are one" in many languages with a removable mp3 speaker slotted in the base of the packaging. Although the quality isn't fantastic, I appreciated the unusual technological pairing with my fragrance bottle. (I've been plugging my iPod into it). Why speakers? Because the "ck one" message of unity explains that music is a universal language and no matter what language we speak, we are part of a larger group.
The scent itself is described as "naturally clean, pure…with a refreshing point of view". It is a light citrus sheer fragrance. The top notes consists of a combination of bergamot, cardamom, tangerine, freesia and lavender. The middle notes are expressed with violet, rose and orange flower. Lastly, the bottom notes consist of musk combined with amber, "completing the effect of fullness and warmth".
For more information, take a look at their multi-media website to listen to the "we are one" music track, download artsy photoshoot wallpaper, and read more about the ck one fragrance.
Read More »