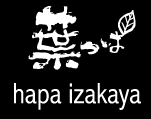 I went to Hapa Izakaya (1479 Robson St) in downtown on Friday night. The location of the restaurant is quite hidden – although located on Robson between Nicola and Broughton Street (those names don't mean anything to me – just know it's closer towards Denman Street), the outside of the restaurant is quite dark. The first time I walked in, I was amazed to see such a small opening expand into a fairly spacious cavern of a restaurant.
.
Hapa Izakaya is known for its Japanese-style tapas. We were a group of 6 and didn't make reservations (couldn't until 8pm) and we ended up waiting almost an hour for our table. While we were waiting, we were seated around a small table and we had the option of ordering drinks and looking at the menu. Prices range from about $3 for edamame beans or octopus sashimi to about $7 for "ebi mayo" prawn tempura (highly recommended) to $10+ for featured appetizers consisting of seafood and meats. These dishes are meant to be shared but if you want to get an individual portion of something filling, try the "ishi-yaki", a Korean rice bowl with egg. We watched the servers madly beating the raw egg into the rice and watched it cook against the inside of the hot stone bowl it was served in.
.
So go see for yourself – check out Hapa Izakaya. There is also a location in Kitsilano.
Read More »