a global charity event that invites men to grow moustaches for the month of November. Since its inception, over 372,000 Mo Bros have grown moustaches to change the face of men's health.
By Kenneth Law
Starting this Friday May 29th, Roden Gray (231 Cambie Street) is the location for the launch party of h(y)r collective magazine's new collaboration featuring designers such as Gitman Bros. and Common Projects. Stop by the shop from 7pm onwards to check out some of the new collection pieces while grabbing some free drinks and food; the event runs into Saturday as well. Roden Gray is a menswear boutique on the corner of Cambie and Water St., carrying lines such as APC, Wings + Horns, 3.1 Philip Lim and Band of Outsiders.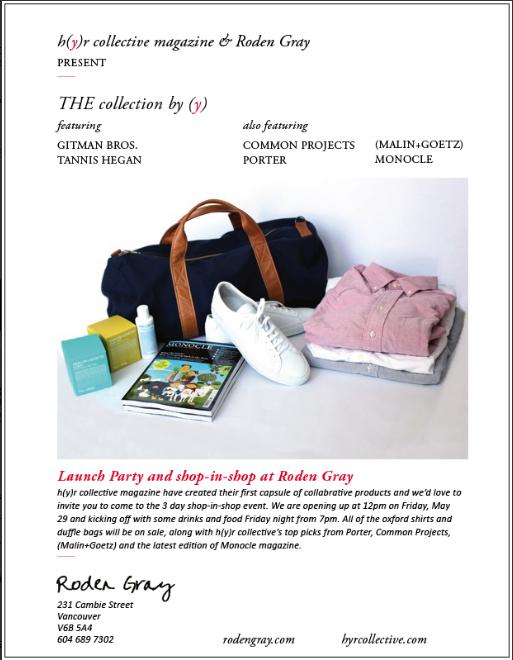 Wings & Horns (formerly Spruce), a relatively cryptic brand of upscale streetwear and casual workwear for men, designed and manufactured in our very own Vancouver, B.C. is having a sample sale at 188 West 6th Ave. I'd be inclined to say it's one of the best sample sales ever displayed by the label, with stock that includes some of their famous tiger fleece hoodies alongside thermals, buffalo check jackets, raw denim and tees for ridiculously low prices. Sizes are available from XS – XL, and if you go early enough in the day there's usually enough stock to give you a great selection.
.
Collections of Wings and Horns can be found locally at Holt Renfrew, Roden Gray,Gravity Pope (footwear) and Dutil Denim (denim). However, it's a fairly certain guarantee that the deals at this sample sale will outshine anything those stores can offer. While their designs are usually not out of the ordinary enough to jutsify the regular retail price they command, the sheer quality of the material and details in the construction (No YKK zippers!) are definitely worth the prices you will be finding at this sale. Note it is cash only.