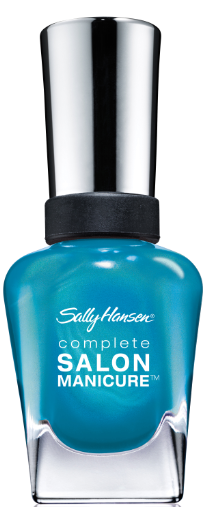 .
Probably inspired by my friend Naomi and the ever-changing colors of her nails, I've been trying out different nailpolish lines to see what I like best. For example, MMV has previously featured Lippmann Collection and Sula's Paint and Peel Nailpolish. But for the latest and greatest, Sally Hansen just came out with a "complete salon manicure" nailpolish line which works in five different ways to help improve your home-manicure experience:
.
1. As a Base Coat – smoothes out imperfections for a flawless surface.
2. As a Growth Treatment – protects problem nails, allowing them to grow longer and stronger.
3. As a Strengthener – reinforces nails to help resist splits, chips and cracks.
4. As a High-Intensity Colour – glides on concentrated pigments in two coats for a salon-quality manicure.
5. As a Top Coat – provides extra protection and brilliant shine.
.
I love the shape of the nailpolish brush – really flat and broad to paint the color on smoothly. I tried the color "Yellow Kitty" (a springy pastel shade of yellow, uncommon in nailpolish colors) and found that I had to apply three coats to get that smooth, lacquered look. Perhaps you will only need two coats for the darker colors. Sally Hansen's "Complete Salon Manicure" is available in 42 new shades (wow!) and retails for $7.95 at select drugstores and mass retailers across Canada for Spring/Summer 2010.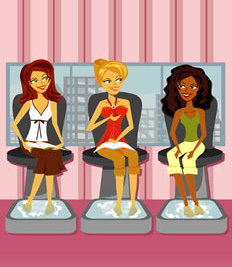 As a Christmas present to my friend and MMV Photographer Grace, I took her to Pure Nail Bar to get manicures. There they had a flyer promoting their upcoming "12 Days of Customer Appreciation". Enjoy a free manicure (worth $25) when you purchase a pedicure ($35) from January 5th to 22nd! "HEY," you might be saying, "that doesn't add up to 12 days!!" That's because this offer is only valid on Mondays to Thursdays. Other fine print: this offer cannot be combined with other promotions including vouchers and stamp cards and is not valid for the purchase of gift certificates. So what are you waiting for? Pick up the phone and call any one of their eight locations to book your appointment today! All Pure Nail Bar franchises open from 10am to 7pm.