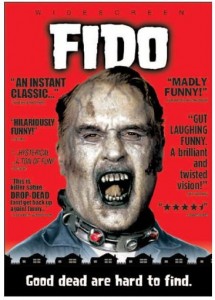 Celebrating its 5th year of publication, Cinephile (UBC's film journal) will be screening the award-winning, Canadian zombie comedy "Fido" at the Pacific Cinémathèque (1131 Howe Street) on March 3rd at 7pm. Director Andrew Currie will be in attendance for a Q&A. Guests will be well supplied with beverages, hors d'oeuvres, and a bevy of exciting door prizes and silent auction items.
.
The fundraiser is part of Cinephile's ongoing effort to keep our non-profit graduate film journal (the only one in print in Canada) alive and thriving from year to year. The event also marks the launch of Cinephile's first 2009 issue: "Far From Hollywood: Alternative World Cinema."
.
Fido takes place in a 1950s-esque alternate universe where radiation from space has turned the dead into zombies. Fido stars Carrie-Anne Moss, Billy Connolly, and Dylan Baker and exemplifies a clever balance of the light-hearted and perverse; it is a darkly comic zombie film layered with genre parody and political commentary about US Homeland security.
Welcome to Willard, a small town lost in the idyllic world of the 50's, where the sun shines every day, everybody knows their neighbour, and rotting zombies deliver the mail. A corporation was born: ZomCon, who defeated the legions of the undead years ago. Since then, they have domesticated the zombies and made them our industrial workers, our domestic servants – a productive part of society. ZomCon would like the people of Willard to believe they have everything under control…but do they?
.
Ticket Information:
$15 for adults | $12 for Students (or 2 for $20) | Frederic Wood Box Office: 604.822.2678
Read More »