Morgan Crossing is a hip, new village in Surrey made up of restaurants, cafes, services and brand retailers in an open-air, pedestrian friendly streetscape.  Catering to the young urban professional wanting to …
Several Yaletown beauty businesses (including Noir, Blo and Bombay Brow Bar) have joined together to bring you a contest to win a "Hot Mama Make-Over"! To enter, email contest@SKNclinic.ca with a picture of your mom and tell them why she needs a Hot Mama Make-Over. For details, see the flyer below!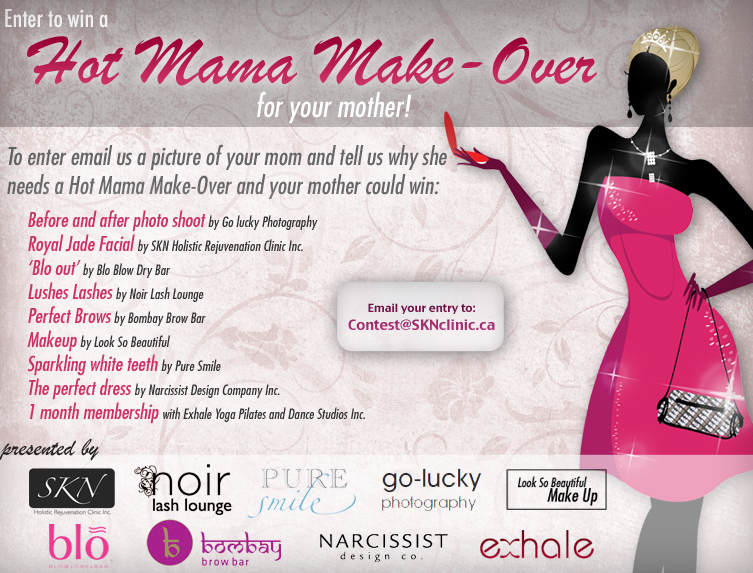 Yesterday evening, I went with my friend Miranda of Style By Fire to Blo Blow Dry Bar's Naughty or Nice Block Party in Yaletown in support of the BC Cancer Foundation. When we got there at around 7pm, the patio party was absolutely packed…and for good reason! Event admission was a $5 charity donation, yet its entertainment value exceeded that by far. With great support from local restaurants (including Opus and Cactus Club Cafe) yummy appetizers and drinks were served – from mini burgers to grilled scallops, from mojitos to beer.
.

On one end of the party, Aziya, a home salon service for girly beautifying sessions, had set up a station with three manicurists to pamper the party guests. On the other end was Brent Ray Fraser putting on an art show. In between was a standing fashion show with local designers. Strangely enough, I ran into a friend from elementary school there and he had an item of clothing from his line Chinamen's Club up on stage. Stay tuned, I am sure some of the local companies I have mentioned in this entry will appear again in the next few weeks! All in all, it was a very "Yaletown" event – young urban professionals, stylish guests, and, of course, being patrons of Blo: well-groomed hair.