When two talented minds come together to collaborate on a common dream, amazing things more here happen. That's what I witnessed last weekend at the grand opening of Hunter & Hare (334 West Pender Street) in Gastown. The store was jam packed with people, a DJ, and donuts of every flavour from Cartems.
When you first walk in, you'll instantly feel transported to a fairy-tale where you're Alice and the store around you is wonderland. Hunter & Hare is carefully decorated with pieces of wood, a green chalkboard, brick walls and a collection of shoes lined up in a row, just taunting you to try them on. On the side walls are racks of clothing that have been carefully sorted and hand picked by store owners Jo and Micki.
Micki is busy bustling around the room as the most welcoming hostess and Joe is behind the counter with a beaming smile. It's hard to believe the two only met a year and a half ago, when the they crossed fated paths. When asked about the meaning behind the charming name of the store, Jo shared:
"The name came from a song I used to listen to all the time: "they are the hunters and we are the rabbits" . Those lyrics always stuck with me  because I felt we can all be both. Sometimes we are influencers and other times we are influenced, sometimes we are hunters and sometimes others are on the hunt."
And if you're on the hunt, this is where you're in luck . On the landing page of their website, when they refer to "quality goods" they mean stuff you'll actually want to buy from brands including Free People, Club Monaco and J. Crew.  In addition to gently worn clothing items, Hunter & Hare also offers a selection of locally designed products, including crystal pendants from Charles & Grace and jewelry from Lover's Tempo.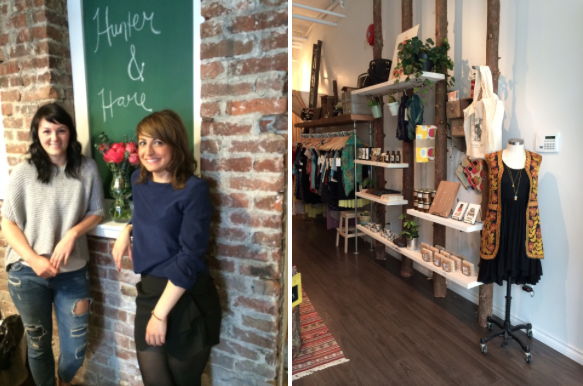 The fun of consignment shopping is that you never really know what treasures you will find. Not only does the store consign and sell clothes, they make a point to support local charities including Women Working With Women and A Better Life Foundation.
The store also accepts consignment pieces, every day of the week and is even rolling out a one day pick up service. To learn more about how you can get involved, visit hunterandhare.com for more information. Or, you can drop into the newly opened store at 334 West Pender Street.