The Keurig Rivo System is named after the Italian word for revolutionary. The simplicity of Keurig technology enables you to exclusively brew Lavazza espresso and froth any type of fresh milk at the touch of a button. It's simple, quick, easy and totally customizable.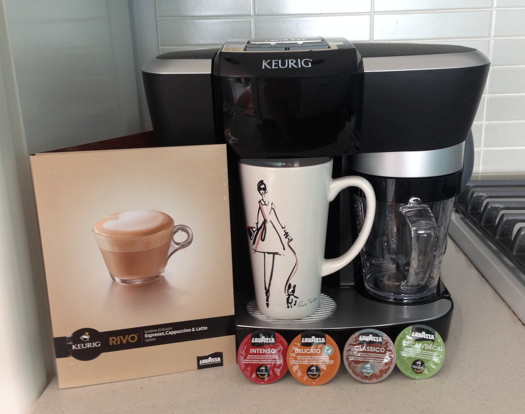 Keurig challenged Modern Mix Vancouver to come up with 10 coffee recipes in 10 days, using the new RIVO system.  And what did we say?  Challenge accepted!
Many of these recipes I made with ingredients found in my apartment.  I gathered some items which I thought would go well with coffee: almond milk, dulce de leche (aka caramel sauce), cinnamon, hot chocolate powder, brown sugar, condensed milk, whipped cream and sprinkles.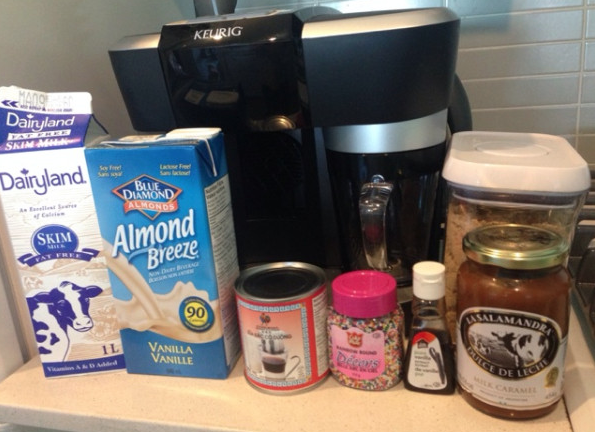 Here are the 10 recipes I created:
THE "MILKY WAY" LATTE: Beginning with the basics, I filled the milk frothed compartment to the "max" line with 2% milk and put into the Lavazza medium roast Classico Blend, for what I was going to call the standard latte.  My boyfriend looked at my creation, thought I was trying to make latte art, and called it "The Milky Way".  The name stuck.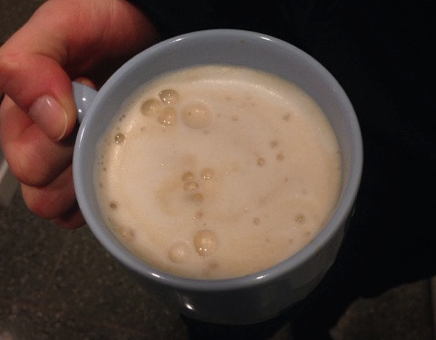 VANILLA LATTE: I filled the milk froth compartment to the "max" line with 1% milk and put into the Lavazza medium roast Classico Blend, with a couple drops of pure vanilla extract, creating a vanilla latte.  Next time I'd probably use a vanilla syrup instead of extract.
ICED DULCE DE LECHE CAPPUCCINO: From what I gathered, a cappuccino is basically less milk and more foam, compared to a latte.  I filed the milk froth compartment to the "min" line, and pressed the setting button for more foam.  I made the Lavazza espresso in the "short" setting, added dulce de leche (caramel), poured over ice cubes and topped with milk and foam.
 After seeing drinks presented like THIS by local bloggers Food Gays (you can follow along on Twitter using the hashtag #KeurigRivoChallenge to see what other bloggers are making), I decided to use a transparent glass so I could see the layers of espresso, milk and foam in this creation.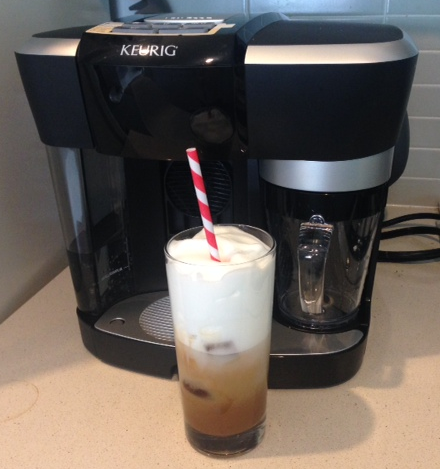 ALMOND MILK LATTE:  I made a latte using Vanilla almond milk from a tetra pack.  You can top this with almond flakes, on top of the foam. Use flakes rather than slivers, because flakes are lighter and will rest easier on the foam.
SOY MILK LATTE: Similar to yesterday's latte, except today, I used Soy Milk instead of Almond Milk.

FAT-FREE LATTE: For days that you want something that's lighter, use Skim Milk.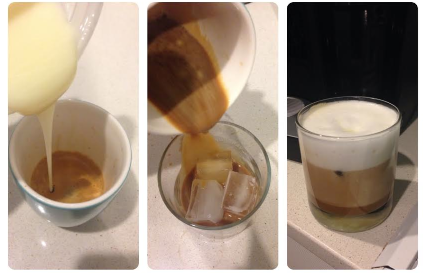 ICED VIETNAMESE COFFEE: After making the espresso, I stirred in a spoonful of condensed milk, which is super sweet, thick and creamy, and usually comes in a can.  It was about $2.50 at Superstore.  This is probably my favourite drink so far.
DECAF MOCHA: I had this one in the evening, and didn't want the caffeine, so I made a decaf mocha by adding in one tablespoon of chocolate powder to the Lavazza Decaf Rivo Pack.  If necessary, sweeten with brown sugar.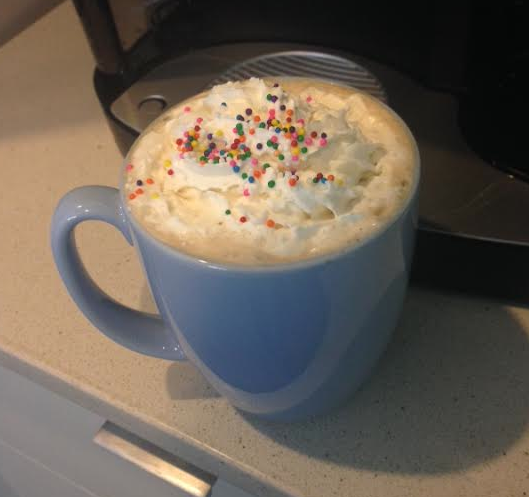 MOCHA WITH WHIPPED CREAM & SPRINKLES:  Similar to the recipe above, make a mocha by adding in a tablespoon of chocolate powder.  For a fun topping, squirt some whipped cream and shake sprinkles on top.  The creaminess of the whipped cream will eventually melt into the drink.  Use a Lavazza Decaf Rivo Pack if you don't want caffeine.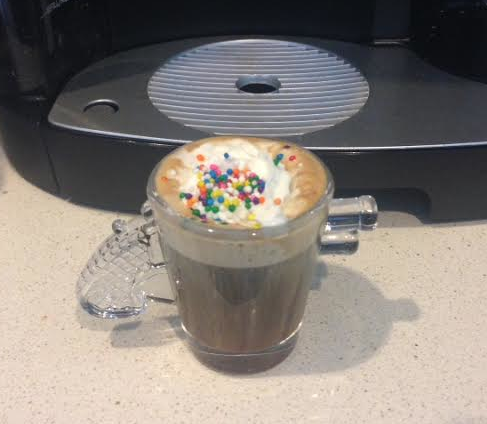 BIRTHDAY SHOT: Get wired up for your birthday with a short shot of Lavazza Espresso in a shot glass, a dollop of whipped cream and sprinkles on top.  As the espresso was hot, my whipped cream melted on top.  But you get the idea!
Overall, it was a fun experience to get creative and see what the Keurig Rivo can do!  As summer is on its way, I have a feeling I'll be making lots of iced coffee this upcoming season….and you can too!  For more information about the Keurig Rivo, visit: keurig.ca.