Are you up for a fun food experience? On behalf of SocialShopper, Modern Mix Vancouver had the opportunity to experience a casual afternoon tea at Capstone Tea & Fondue on Robson Street.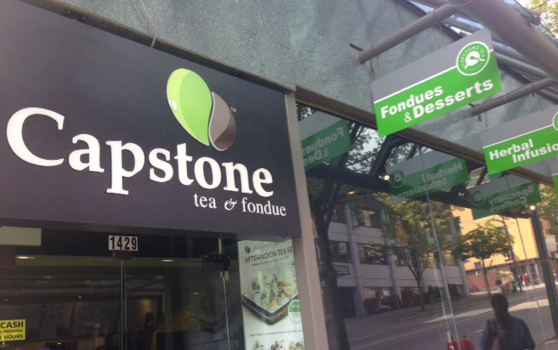 Capstone has found a unique niche in the downtown area, focusing on chocolate and cheese fondue, and specialty drinks. However, demand from its customers grew for additional offerings beyond its fondue core, and now Capstone is experimenting with offering afternoon tea.  The SocialShopper deal offers a set menu for afternoon tea, featuring a selection of sweet and savoury pastries.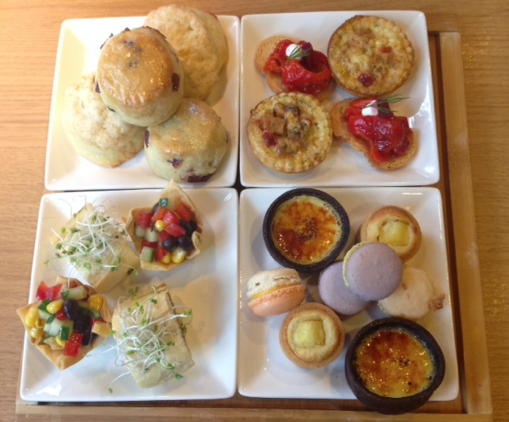 Here is what's included:
Sweets
Banana Split in Mini Waffle Basket
Featured Macarons
Pineapple Almond Tartlet
Savouries
Blue Cheese Mushroom Quiche
Caprese Panini
Sante Fe Salad in Mini Waffle Basket
Round Roasted Pepper Sandwich
Scones (served with raspberry jam and honey butter)
Traditional Scone
Matcha Raisin Scone
Not every item on the afternoon tea menu is necessarily available on the day you order, some substitutions may be made.
When picking through your pastries, I would recommend starting with the warm items first – like the quiche, and then move your way to anything saucy (like the roasted red pepper on toast, otherwise it gets soggy), and save the sweet pastries for last.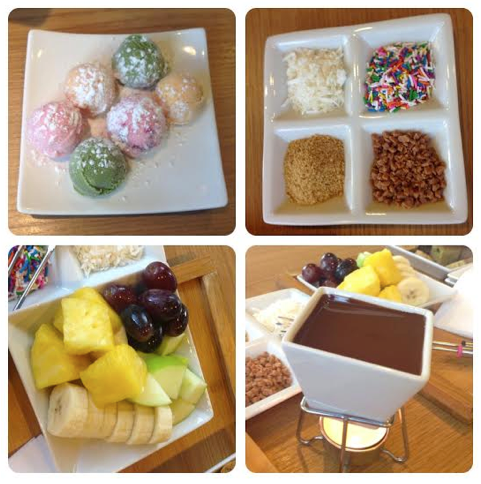 During the afternoon tea set menu only, customers can order in addition, a fondue set for the discounted price of $9.95. We had the chocolate fondue sampler, which comes with cookies, fruits and small scoops of ice cream (including my favourite flavor, green tea), an assortment of toppings (crunchy caramel bits, sprinkles and nuts) and a personal chocolate fondue dipping pot for each person.
The neat thing about dipping ice cream into a chocolate fondue, is that the chocolate hardens from the cold, so you end up with a chocolate crusted bite-sized ball of ice cream.
For the full Capstone Tea & Fondue experience, I suggest ordering the fondue special in addition to what your SocialShopper voucher provides. If you can't finish something, you can always pack it up like we did.
If you're looking for a fun food experience, at a discounted price, check out SocialShopper's deal on Afternoon Tea for 2 or 4 People at Capstone Tea & Fondue.