LUSH x HoneyLove Team Up for Honey Bee Day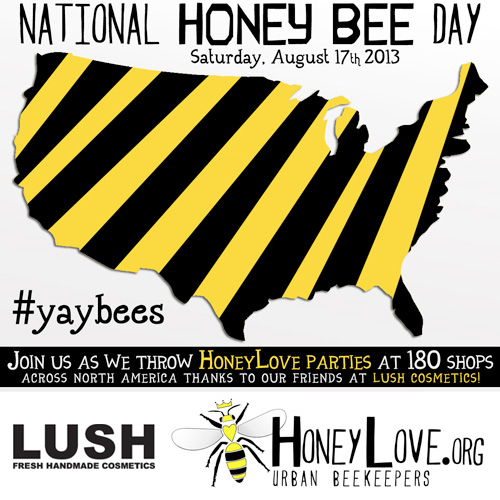 At LUSH, honey isn't just a trendy beauty ingredient…many of their best-selling, fresh, handmade products wouldn't be able to be made without it.  LUSH uses honey for its moisturizing and antiseptic properties.  LUSH Cosmetics and HoneyLove are teaming up to help save the bees on Saturday, August 17th by hosting in-store educational activities at various LUSH shop locations in the lower mainland.  Stop by LUSH locations on West 4th, Robson Street or Metropolis at Metrotown and learn about the plight of the bees, urban beekeeping and what you can do to help.
In the meantime, here are some honey-themed products you can find at LUSH.
Honey Bee Bath Bomb ($6.45) – What's the buzz around LUSH's glorious, best-selling toffee-scented globe? Between the Moroccan Rhassoul mud that gently cleanses and softens, the calming aloe vera and the skin-soothing honey that's packed into each Bath Bomb, you have to try one to find out!
It's Raining Men Shower Gel ($9.95 – $28.95) – This soothing honey shower gel smells like toffee-fudge, with refreshing sweet orange and bergamot oils to give it a little extra sweetness. In case you've encountered stormy weather, LUSH made It's Raining Men with lotus flowers to soothe your ravaged bodies and oodles of moisturizing, cleansing honey.
Fair Trade Honey Shampoo ($9.95 – $29.95) – Over half of this shampoo consists of Fair Trade honey, which is beautifully moisturizing and gives hair shine and luster. And all that honey has allowed LUSH to make this one preservative-free! This shampoo is suitable for almost everyone, but is especially lovely on hair in need of moisture.
Honey Trap Lip Balm ($7.25) – Honey Trap is filled with toning sweet orange and cooling peppermint to soothe dry, chapped lips. Rich honey moisturizes and melted white chocolate is part of the delectable flavor.
Mr. Bumble ($15.95) – This cutie contains a slab of LUSH's honey-packed Honey I Washed the Kids soap and our honey and mud swirled Honey Bee Bath Bomb. Absolutely mouth-watering fragrances and supremely soothing aloe and honey make these treats wonderful on sensitive, mature or dry skin.
In addition, LUSH will be awarding 5 winners across Canada on Twitter/Instagram, a VIP membership to HoneyLove, as well as a Honey Farm gift set!  Here's how you can enter in three easy steps:
Snap a picture of something bee-y (Honey? Sure! Bee costume? Amazing! Pollinated flowers? Yes please!)
Tag it with @honeyloveorg, and use the hashtag #yaybees
Sit back and wait for the honey to roll in!
There hasn't been a specified contest end date for the Twitter/Instagram contest yet, but is expected to end sometime in mid to late August.