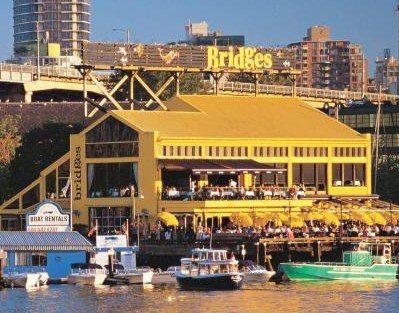 After my friends ran the Sun Run this morning, we went for a group lunch at Bridges Restaurant (Bistro & Bar) on Granville Island.  We had a good time with good company, service was fine, food was alright, view was lovely!  Everyone ordered brunch/lunch and most of us had coffee, caesars or beers with our meal.  I had a hot water with my meal.
When the bill came, to my surprise, I was charged $2 for the hot water I had ordered!  I asked our server about it and he said "yeah, that's just the way it is…" Not wanting to make a scene, we paid our $60+ bill for two and left.
I left the restaurant quite frustrated and annoyed because I felt like we were being nickle and dimed as customers. My frustration doesn't come from the actual dollar amount because an additional $2 on top of a $60+ bill between my boyfriend and I is not significant. It comes from the fact that Bridges wanted to milk every penny possible from their customers by charging for something which most restaurants would gladly provide as freely as ice water.  Why is cold or ice water free, but they can arbitrarily put a $2 price tag on hot water?  By the way, this wasn't bottled water, or tea. I didn't even get a lemon with it!
When I shared my experience through Twitter, I received a multitude of support and shared opinions of disbelief.  Below are some snippets of responses and RTs I received through Twitter:
$2?  That's crazy and not good for business!
#overpriced
wow really?! That's ridiculous!
That would leave me furious. It isn't if you sat there and had JUST water
that irks me even more, when servers aren't upfront about extra charges
Thats outraegeous!
I would estimate that 19 out of 20 people I talked to afterwards shared my opinion that it was a bit "odd" and "not okay" of the restaurant to do so – especially not letting you know upfront there was an unexpected charge.  It's not like I sat there and ate nothing. Our entire table had ordered full meals with drinks and gladly paid the auto-gratuity for our party of 8.
Anyway, Bridges got my $2 but will they get my return patronage?  There are plenty of other restaurants in Vancouver who have a similar view of False Creek and the way I felt I was nickel and dimed at Bridges does not seem like an inviting reason for me to return.
By the way, Bridges is not the only restaurant to do this. La Terrazza in Yaletown charged $1 for hot water, on top of a $100+ meal for two people.
What are your thoughts? Should restaurants be charging for hot water? Have you had a similar experience?