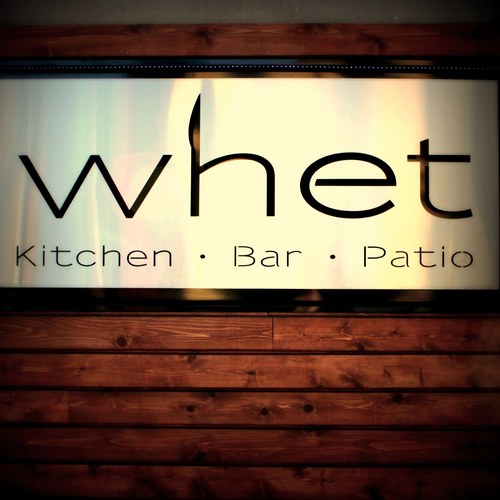 Whet Kitchen.Bar.Patio has been open on Granville Island for about a year and a half and serves West Coast inspired dishes.  They are currently offering a promotion on behalf of VanEats.ca for a $30 set-menu dining pass which includes two appetizers, one main course and two sleeves of beer.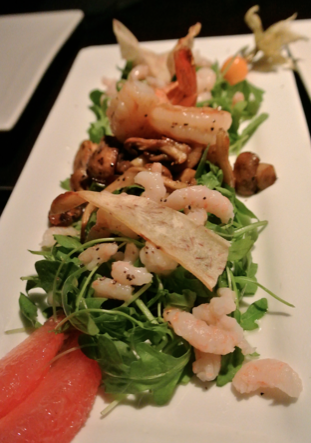 Our dinner at Whet Kitchen Bar Patio started off with the "Prawn, Shrimp, & Wild Mushrooms Salad" which consists of pan seared prawns, hand peeled shrimp and wild local mushrooms on a bed of arugula drizzled with a lemon-hazelnut vinaigrette.  I loved how the little shrimp and mushrooms were warm and savory and provided a delicious contrast to the slightly tart and peppery arugula.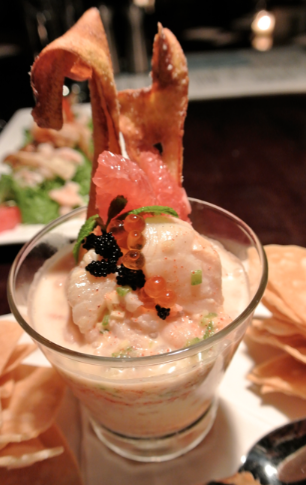 Next up was the "Coconut Scallop Ceviche" which was a beautiful work of art presented in a glass tumbler.  I was surprised at how many little shrimp fit into the glass because each time I spooned the mixture, I was always able to get a few shrimp or bits of scallop onto my spoon.  The ceviche came with corn chips; it was a bit messy to eat  because the ceviche was quite drippy and watery.
For the main course, I ordered the duck with sweet chilli ginger sauce.  I thought the duck was a bit too salty for my taste, and I didn't really notice the sweet chilli ginger sauce.  But nonetheless, similar to all the other dishes I've had so far, the presentation of the dish was carefully crafted.  The yam and plantain chips were balanced carefully on the duck at various angles – it was a surprise to me that it didn't all topple down!
Chances are, you are dining with a guest.  If you have the VanEats.ca Whet Your Appetite pass, your guest can order another main course (either the duck or the Coho salmon) for only $15, which is pretty much cheaper than any other main course on the menu.  The "Red Honey-Curry Coho" came with saffron yoghurt, hot pickled lime puree, candied almonds and broccolini.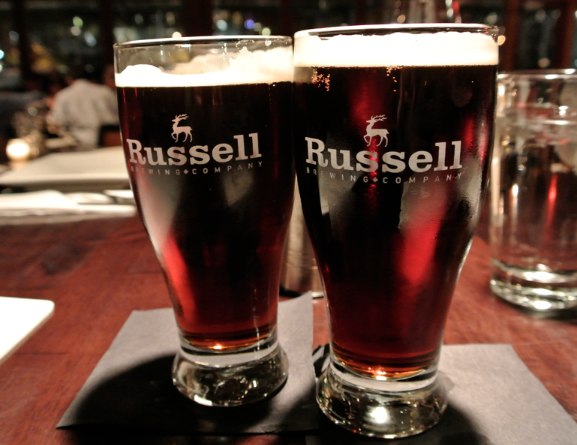 To accompany your food, the VanEats.ca dining pass includes two sleeves of Russell Brewing Company's Angry Scotch Ale, which is a smokey, dark ale that originated in Edinburgh.
To eat the same meal I did at Whet Kitchen.Bar.Patio, head to vaneats.ca, purchase a dining pass for $30 and get ready to "whet your appetite"!.